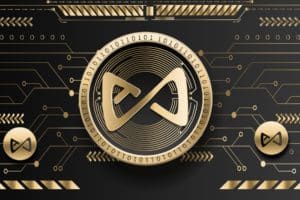 Axie Infinity seriously believed it after its crypto game Origins got approval from Apple to be launched on the App Store, but it still does not see any to-the-moon move. 
As a matter of fact, AXS is up +24% in price from a month ago, but down -55% from last year. 
Axie Infinity and Apple's approval of the crypto game Origins
It was May, when Axie Infinity (AXS) got the famous approval to launch its crypto game Origins on Apple's App Store. 
Obviously, this collaboration saw the video game company with NFTs and crypto, adapt its game with a different version, so as to be in line with the standards required by the tech giant. 
Origins' Play-to-Earn card game initially gave players free "starter characters," instead of offering them the classic NFTs that users had to buy or rent in the original game. 
Apart from this, Axie Infinity had managed to get into Apple's heart, believing strongly that this would finally lift the price of the AXS crypto as well. 
And indeed, on that very day AXS had registered a 13% price pump, rising from $6.90 to nearly $8. To date, however, the enthusiasm seems to have died down a bit, as AXS is not flying. 
Axie Infinity: collaboration with Apple does not make the AXS crypto fly
As previously anticipated, the collaboration with Apple brought the price of the Axie Infinity (AXS) crypto close to $8. 
Too bad that at the time of writing, AXS is worth $5.95, and as of May to date, it has also touched a low of $4.7. 
Not only that, when looking at the annual price chart of AXS, it is clear that the blockchain-based gaming crypto is in total bear market, with a price dump of -55%. Yet, last year, it was in the middle of the "crypto winter." 
In contrast, major crypto assets such as Bitcoin (BTC) and Ethereum (ETH), are seeing bullish price action compared to last year, +53% and +72%, respectively, at the time of writing. 
The crypto game appears to be losing popularity
Besides the price of AXS, there are also other indicators that confirm that the Axie Infinity crypto game launched on Apple, is losing popularity. 
And in fact, since May, Axie Infinity has also seen a decline in terms of the number of digital wallets engaged in the game (UAW), down 19% in the past 30 days, according to data from DappRadar. 
Not only that, the gaming data site Activeplayer, also pointed out that Axie Infinity would see a drop of more than 6,600 users in the last 30 days. 
Speaking of Non-Fungible Tokens, according to CryptoSlam, Axie Infinity's NFT trading volume dropped to $1.4 million in June, down from $2.1 million in May. When considering that during the 2020 pandemic, Axie Infinity's monthly trades exceeded $700 million in a single month, this is therefore another decrease.