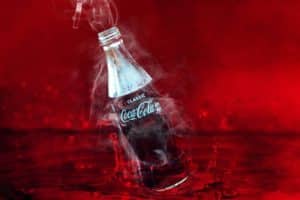 Coca-Cola is joining Coinbase's 'Onchain Summer' initiative, launching the mint of its 'Masterpiece' NFT collection on the Ethereum Layer 2, Base. 
Coca-Cola: the mint from the NFT Masterpiece collection will be on Ethereum's Layer 2, Base
Coca-Cola chooses the Layer 2 of Ethereum launched by Coinbase, Base, to launch the mint of its new NFT collection: Masterpiece. 
"ᴏɴᴄʜᴀɪɴ ꜱᴜᴍᴍᴇʀ @CocaCola is bringing its Global Masterpiece campaign to the chain with iconic works by prominent artists."
According to the official description, Coca-Cola's signature NFT collection brings together iconic artworks and new works by emerging talents in a unique way, all intertwined with the iconic bottle. 
Specifically, it features Edvard Munch's 'The Scream' and Johannes Vermeer's 'The Girl with the Pearl Earring' coexisting harmoniously with contemporary works by talented artists such as Aket and Vikram Kushwah. 
The works from Coca-Cola's Masterpiece Global campaign can be minted in NFT format, exclusively for participants of the Onchain Summer, the event launched by Coinbase. 
The Onchain Summer will run for several weeks and will enable the promotion of Base's mainnet dApp partners in the areas of digital art, music and gaming. 
Coca-Cola NFT and the history of Coinbase's Ethereum layer 2
The mint of Coca-Cola NFTs began yesterday, and has eight versions of Non-Fungible Tokens from 0.0011 ETH to 0.014 ETH, with some being sold at a lower price than mint on the OpenSea NFT market. 
Thus, Coca-Cola joined the new blockchain of the popular crypto-exchange, Coinbase, which only a few days ago made official the public launch of its Ethereum layer2, Base. 
Basically, Base promises to explore dApps using a blockchain that performs transactions faster and with lower fees than Ethereum's blockchain. 
Coinbase had introduced the Base testnet last February 2023, with the aim of solving the challenges that developers often face on Ethereum's mainnet, especially when it is congested and expensive to use. 
Back in May, Base had unveiled its roadmap but without announcing an official launch date. The only thing it revealed to the public at that time was that Base does not plan to issue any new tokens. 
Base uses Optimistic Rollup technology to reduce transaction fees and increase scalability. 
The Non-Fungible Tokens of the global soft drinks giant
This is not the first time Coca-Cola has issued its own NFTs. Indeed, on the occasion of International Friendship Day on 30 July, Coca-Cola auctioned off its first NFTs in 2021 and then again in 2022, on the OpenSea marketplace. 
In 2022, Coca-Cola reportedly chose Polygon's Blockchain for its NFT collection to give away to holders of its previous Non-Fungible Tokens. 
This indicates that the global beverage giant has already to some extent tested an Ethereum Layer 2, namely Polygon, and that this time it is focusing on Base instead. 
Finally, in December 2022, Coca-Cola also signed an agreement with Crypto.com to produce an exclusive collection of 10,000 NFTs for the Qatar 2022 World Cup.