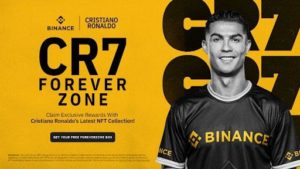 Cristiano Ronaldo is launching together with Binance the third NFT collection, "CR7 ForeverZone." For fans of the Portuguese soccer player who own the new NFTs, there are 50,000 limited edition mystery boxes full of prizes, such as a trip to train with Cristiano Ronaldo. 
Cristiano Ronaldo teams up with Binance to launch third NFT collection full of prizes
Cristiano Ronaldo and Binance have announced the launch of the third NFT collection "CR7 ForeverZone," which features 50,000 mystery boxes full of exclusive prizes. 
"Drop 3″ is on and there are 50,000 CR7 ForeverZone boxes up for grabs, each containing a unique NFT! Open them for a chance to win exclusive prizes, including the Golden Ticket to hang out with @Cristiano Ronaldo in person."
In essence, the new collection represents a new chapter in the multi-year partnership between the Portuguese soccer player and Binance, which aims to revolutionize fan experiences in sports and entertainment. 
CR7 ForeverZone features 50,000 free limited edition mystery boxes containing unique digital items, exclusive merchandise and memorable experiences, including the chance to win a trip to train with Cristiano Ronaldo. 
The new drop of Ronaldo's signature NFT collection, will be available exclusively on Binance from October 11 to 24, 2023.
Cristiano Ronaldo and Binance: what are the prizes of the new NFT collection?
The CR7 ForeverZone collection features a diverse range of NFTs that bring fans closer to Cristiano Ronaldo and the world of blockchain. 
First among them is the Golden Ticket, a ticket to an unprecedented experience, namely a trip to train with Cristiano Ronaldo. 
This is a unique offer that goes beyond the virtual and includes an exclusive training session that will allow the recipient to learn new techniques and engage in a series of challenges alongside one of the greatest players of all time. The holder will have flights and lodging to ensure a perfect match.
Other prizes include NFT guaranteeing the holder a personally autographed ball or shirt from Cristiano Ronaldo. Not only that, also up for grabs are 50 tickets to Binance Blockchain Week, hosted in Istanbul, Turkey, on Nov. 8-9, 2023. 
In addition, there are other exclusive NFTs featuring the Portuguese champion again. For example, some mystery boxes in the CR7 ForeverZone include exclusive NFTs from both previous drops: 1460 boxes contain a surprise from the inaugural The CR7 NFT Collection, launched in November 2022; 9,566 boxes contain exclusive NFTs from the second July 2023 release, ForeverCR7: The GOAT, celebrating Ronaldo's most important goals.
Finally, to celebrate Cristiano Ronaldo's extraordinary career, 38,823 boxes contain a special NFT Souvenir, which pays tribute to CR7's historic achievements. 
The Magic of Non-Fungible Tokens in the Sports and Entertainment Sector
There is magic in Non-Fungible Tokens, at least for interested fans, combining the sports and entertainment sector through Web3 technology. 
In this regard, Cristiano Ronaldo commented on the partnership with Binance as follows: 
"I have always felt the incredible energy and support of my fans. That's why I wanted to strive to find a new way that could bring us even closer together. By partnering with Binance, we are able to build this connection and offer unique opportunities accessible to anyone. This allows me to share a part of my legacy with fans."
Rachel Conlan, Chief Marketing Officer of Binance, also made a comment on the matter:
"Our partnership with Ronaldo is not just a collaboration, but a fusion of visions. We want to redefine the fan experience through Web3 technology. Ronaldo, one of the greatest athletes of our time and is not only writing sports history, but is at the forefront of change under the banner of innovation. With our third NFT collection, we are delighted to be able to help a global sports icon share a part of his extraordinary track record with fans , and to pave the way for the future of Web3-driven sports and entertainment."
The launch of "Copy Trading"
Recently, Binance Future introduced an innovative new feature in selected markets that is set to revolutionize the way traders approach trading cryptocurrency futures: "Copy Trading." 
This is a feature that allows users to replicate the trades of experienced traders. In this way, crypto trading beginners will be able to get initial support for trades. 
Specifically, copy trading offered by Binance is a form of social trading that offers the ability to emulate the trading strategies of more experienced traders. Users can choose a lead trader based on various metrics and then let his or her trades be duplicated in the user's trading account.  
Of course, the only thing that is adjusted is the size of each trade, which will be proportional to the total investment chosen by the user.