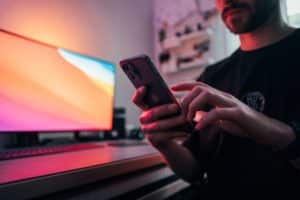 A new study by Adjoe, a leading adtech solutions provider, explores the "crypto gaming Web3" industry, delving into the behaviors of cryptocurrency and mobile gaming users. 
Gaming Web3: How do crypto users behave toward mobile games?
A new study proposed by Adjoe, a provider of adtech solutions, explores and delves into the behaviors of cryptocurrency and mobile game users, which then fall under the crypto gaming Web3 sector. 
Basically, Adjoe analyzed 20 million crypto users and their interactions with mobile gaming apps from January to July 2023, sharing knowledge and their behaviors. 
Among the various findings, it appears that men tend to spend 34% more time in their cryptocurrency wallets than women. 
Not only that, users aged 35-44, spend the most time in their crypto wallets, almost 40% more than the average. This underscores their interest in financial planning and investing.
But the most interesting result is precisely that crypto wallet users are also very interested in mobile games. 
In this regard, the result points out that 80% of those who actively engage with a cryptocurrency wallet have at least three mobile games installed on their device, and 60% of them are engaged in some type of casual gaming. 
Gaming Web3: aligning crypto users and mobile gaming 
The new study's focus on crypto users not only sheds light on their behaviors, but could become a strategic basis for wallet publishers.
Another result that emerged also states that crypto users spend 10 times more time in mobile games than in their crypto wallets. 
And indeed, knowing common trends could be considered by a crypto-wallet so as to improve its performance or to expand its applications, perhaps through mobile games. 
For example, aligning the cryptocurrency earning experience with a collector's mobile gaming behavior can be a powerful strategic move.
In this regard, Carly Ostasiewski, Director of Growth at Adjoe, said:
"Aligning mobile gaming and cryptocurrency can be a powerful way for crypto wallets to increase their brand's connection with their target market. It will not just be a key way to increase current user engagement with their wallet; it can also be a less intimidating way for interested users to gain trust in collecting coins."
The new partnership between Immutable and Ubisoft 
These days, there has also been talk about the new partnership between Immutable and Ubisoft's Strategic Innovation Lab to develop a gaming experience that unlocks the full potential of Web3.
This is the possibility of offering, on the one hand, digital ownership to gamers through Immutable, and on the other hand, the exploration of decentralization through Ubisoft and the Strategic Innovation Lab. This is a significant new milestone for Immutable, following the Immutable zkEVM game solution, and the success of the flagship games Guild of Guardians, Metalcore, Shardbound, and Infinite Victory.