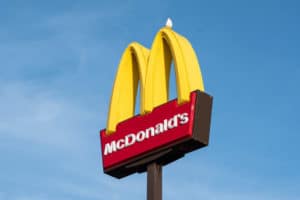 McDonald's is giving away Grimace NFTs developed on Polygon, but only in Singapore. The new offering of PFP (profile pictures), once minted, cannot be traded. 
McDonald's Singapore and the new Grimace NFTs on Polygon soulbound
In response to the Grimace Shake trend of the moment, McDonald's Singapore has decided to give away their NFTs on Polygon, with one condition: once minted, the PFP images cannot be traded. 
As of this morning, McDonald's has raffled off 2,000 collectible NFTs featuring the global brand's purple monster wearing different expressions and accessories. 
Such Grimace NFTs are free and available only through McDonald's mobile app in Singapore.
The NFT promotion of the moment was developed by McDonald's Singapore in collaboration with cryptographic infrastructure startup Bandwagon Labs and local NFT artist pseudonym The Hidden Walls. 
According to reports, the blockchain chosen by the fast food king is Polygon, with the "soulbound" formula. 
This means that any NFT Grimace cannot be transferred from the wallet that minted it. In this way, McDonald's excludes the possibility of secondary sales of its collectible NFTs from the promotion. 
McDonald's NFT on Polygon: Grimace enter the world of Non-Fungible Tokens
This initiative by the fast food giant, allows the purple shakes trending on TikTok, the Grimace Shake, to also enter the world of Non-Fungible Tokens. 
To take part in the McDonald's Singapore promotion, users will need to use a crypto-wallet such as MetaMask or by using services such as Web3Auth, which allows login with a social media account to create a wallet. 
In this regard, Drina Chee, McDonald's Singapore senior director for Marketing and Digital Customer Experience said:
"We're excited to bring Grimace closer to our fans through these unique digital collectibles."
The Web3 experience in Hong Kong with The Sandbox (SAND)
Precisely last month, news leaked that McDonald's in Hong Kong had chosen The Sandbox (SAND) metaverse to create a very first Web3 experience. 
Basically, to celebrate the 40th anniversary of Chicken McNuggets, the fast food king would create a virtual playground called McNuggets Land, which offers a variety of online and virtual activities tied to the motto "Please Share." 
With this initiative, users can explore the 40-year history and experience play within The Sandbox, including interacting with game characters based on the famous Chicken McNuggets.
Not only that, for those who participate in McNuggets Land, there is also a chance to earn various digital and physical prizes, including 100,000 SAND. 
Finally, for eligible Hong Kong users, there are also shared coupons up for grabs, worth 10,000 McNuggets, and for 10 lucky ones, even a full year of free McNuggets.