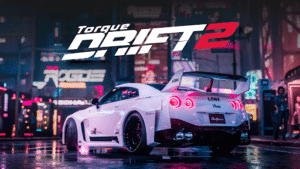 In the realm of gaming, some developers stand out not just for their technological prowess but for the stories they weave and the experiences they craft. Grease Monkey Games, an Australian-based subsidiary of Animoca Brands, is one such gem in the industry. 
Established in 2013, the company now boasts a team of over 60 talented individuals, all driven by a singular vision: creating visually stunning games that bridge the gap between the digital and physical world of Motorsports. 
Under the adept leadership of CEO Arran Potter, the studio transitioned into creating original IP games from a successful Film and VFX career in 2014. 
Their journey since has been nothing short of remarkable, amassing over 45 million downloads globally. Among their stellar creations are Torque Burnout, and Torque Drift 1 which have garnered an impressive 45M+ downloads combined.
Their latest groundbreaking creation, Torque Drift 2, is poised to redefine the gaming landscape. It's not just a racing game; it's a blockchain-based masterpiece that promises an unparalleled authentic drifting experience phygital integrations never seen before.
Epic Expectations: An Inside Drift into the Game's Launch!
The countdown has begun! After many conversations with the passionate TD2 team and witnessing their unwavering dedication, we are thrilled to announce that Torque Drift 2 is gearing up for its grand debut on the Epic Games Store. Those who've been eagerly waiting can now rejoice as the immersive world of drifting is about to open its doors. What can we expect once TD2 is launched on Epic Games? 
Crafting a Legacy
Built alongside the car community, this game is not merely about programming and graphics. It's a heartfelt attempt to mirror the lively and diverse world of car and drifting culture. The early access version is but a sneak peek, laying the foundation for the spectacular experiences awaiting players.
Journey Through Time
Torque Drift 2 is set in a fictional Japanese city, offering players a nostalgic trip to the roots of drifting. Neon city streets, scenic rolling hills, and the very soul of the drifting scene await enthusiasts. And while the heart of the game beats in Japan, players will also venture into professional drifting arenas across Formula Drift's US competition locations such as Long Beach, Road Atlanta, Irwindale Speedway, and much more!
Two Realms of Racing
Street: Picture the allure of Japan's nights, where drifters gather, either showcasing their cars or engaging in thrilling drift challenges. Here, it's not just about the car's power; it's about mastery and precision.
Pro: This is where legends are made. Under bright lights and amidst roaring crowds, drifters compete in structured tournaments, their skills assessed on various parameters from speed to style.
Dive into Diversity
The game's city, located in Central/Southern Honshu, beautifully blends the old and new drifting generations. Players will navigate through diverse terrains, from bustling docklands to serene hill race tracks. This city, with its evolving drift culture, beckons players to etch their legacy.
Groundbreaking Gameplay
Collect: With the introduction of digital collectible items, players can truly own their game, customizing and even monetizing digital assets.
Customize: Torque Drift 2 ups the ante with unparalleled customization options, with every achievement immortalized through blockchain technology.
Create: The game empowers players to craft their unique content, both through in-game tools and external platforms.
Connect: Torque Drift 2 is as much about community as it is about cars, fostering connections through an advanced communication system.
Compete: From 1v1 battles to grand car showcases, the game promises intense competition.
Roles:
Tuner/Mechanic: Experts in crafting specialized car setups for specific driving needs.
Artist: Designers of car paint jobs, decals, and distinctive crew branding.
Event Organizer: Orchestrators of grand tournaments and intimate crew meets.
Crew Owner: Pillars forging tight-knit drifting communities and camaraderie.
Driver: Racetrack stars with legacies etched onto their cars and parts on the blockchain.
Now and Next
As of now, a plethora of features await players – a customization garage, a photo booth, and a myriad of cars and parts. But this is just the beginning. The roadmap promises features like multiplayer challenges, drift battles, and so much more.
In conclusion, Torque Drift 2 isn't merely a game. It's an odyssey, a deep dive into the world of car and drifting culture. As it gears up for its grand launch on the Epic Games Store, the world is set for an unparalleled drifting experience. Ready, set, drift!