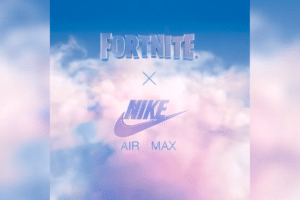 A few days ago, Nike officially announced a partnership with Fortnite that would appear to involve NFTs.
However, someone noticed that the logo that appears in the final screenshot of the video is that of .SWOOSH (dotSwoosh), which is the official name of Nike's virtual creations. Indeed, the tweet was retweeted from dotSwoosh's official Twitter profile. 
.SWOOSH is in charge of issuing and managing Nike's NFTs, including on their official OpenSea page. 
Hence this is a partnership related to digital content. 
The announcement tweet said: 
On 6.20 the ultimate Sneakerhunt begins. 
The launch of the initiative is scheduled for tomorrow, Tuesday 20 June 2023, and it will involve Sneakerhunt. 
Sneakerhunt: Nike brings NFTs to Fortnite
Not much is known about the Sneakerhunt initiative yet, but there is speculation that it may be related to the launch of a collection of NFTs on Fortnite.
Fortnite is an online gaming giant, with nearly 243 million active players in the past 30 days, according to Active Player.
Sneakerhunt is supposed to be a sort of "sneaker hunt," meaning one of Nike's flagship products, but if it will be held on Fortnite it is most likely to be virtual sneakers. 
Perhaps it is no coincidence that .SWOOSH's NFTs are closed boxes whose contents are unknown, and it is certain that .SWOOSH is directly involved in this initiative. 
The name of the sneaker hunt will be Airphoria, as seen in the launch video, and it is assumed it may be an NFT-based game created using Fortnite Creative 2.0, which allows users to create their own virtual island game maps using Fortnite resources.
It is worth noting that a couple of years ago Nike created a game on ROBLOX without NFTs, and Fortnite Creative 2.0 has a similar map-creation game similar to creating games on ROBLOX.
Nike's NFTs in the virtual world
About 20 days ago EA Sports posted a tweet on its official profile that specifically mentioned .SWOOSH, and linked to a page on Nike's official website. 
This page announced the news that Nike Virtual Studios would be bringing .SWOOSH's virtual creations into EA Sports experiences. 
EA Sports has nothing to do with Fortnite, which is from Epic Games, but it is one of the world's largest producers of digital games. 
This shows that Nike is still very active in the NFT field, through its .SWOOSH division. 
So it seems that the big sportswear company is also trying to get into the business of digital items on online games, which is where NFTs can give their best. 
The technology of non-fungible tokens is perfect for digital collectibles, and such items are often featured in online game marketplaces. 
All indications are that Airphoria will be the occasion by which Nike's digital collectibles will land on Fortnite. 
The NFT market
The NFT market as a whole is in a steep downturn. 
Taking OpenSea data as a reference, trading volume in May stood at $183 million, down from an all-time monthly high of $4,870 million in January 2022. 
What's more, in the first 20 or so scarce days of June, the volume was less than 90 million, thus in line with that of May. For example, in December 2022, when the lowest point of the last crypto bear-market was reached, they were 285 million, which is well above the current level. 
It is worth mentioning that the volume trend on NFT marketplaces often follows that of the crypto markets with a few months gap. Therefore, it is possible that June 2023 may be the lowest point of the last bear-market for the NFT marketplace.