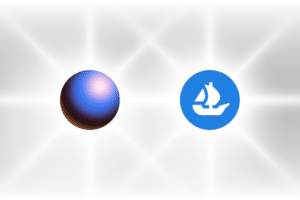 OpenSea, the largest marketplace for Non Fungible Tokens (NFTs), made an exciting announcement today. 
It has added support for the Zora network, a new chain designed to minimize costs for creators and better support the chain's media and culture. This development comes just two weeks after Zora announced the launch of its network on 21 June.
The advantages of OpenSea after adding support for the Zora network
With OpenSea's support for Zora's network, users can now buy and sell Zora's NFTs on the platform. In addition, creators can leverage OpenSea's full suite of tools to distribute their creations on Zora's network. 
This integration opens up new opportunities for artists, collectors, and enthusiasts within the Zora ecosystem.
OpenSea's decision to support the Zora network further strengthens the growing list of platforms that have already embraced this innovative chain. 
Currently, Zora's network is already supported by more than 45 platforms, including big names such as Sound, Mint.Fun, Gallery, Highlight, and Rainbow. 
Each platform offers unique features and a unique user base, providing creators with a broader reach and greater exposure for their digital assets.
The addition of OpenSea to this list is significant for its status as a leading marketplace for NFTs. OpenSea's user-friendly interface, broad liquidity, and robust infrastructure make it an ideal platform for buying, selling, and trading NFTs. 
By joining forces with Zora's network, OpenSea strengthens its commitment to supporting and nurturing the rapidly expanding NFT ecosystem.
Zora's network aims to address the challenges facing creators and users in today's NFT landscape. 
One of the key aspects of Zora's project is its focus on minimizing costs for creators. Traditionally, artists and creators face high fees for minting, selling, and transferring NFTs on certain chains. 
Zora's network leverages innovative technology to reduce these costs, making it more affordable for creators to display and monetize their work.
Zora's network places a strong emphasis on supporting the chain's media and culture 
The Zora network recognizes the value of digital assets beyond just collectibles, enabling creators to represent a wide range of media, including music, art, writing, and more. 
By providing creators with the tools and infrastructure to tokenize and share their work, Zora's network fosters a vibrant and diverse ecosystem that celebrates the intersection of art and technology.
The integration of OpenSea with Zora's network represents a significant step toward mainstream adoption of blockchain-based digital assets. 
As more platforms and marketplaces recognize the potential of NFTs and embrace networks like Zora's, it strengthens the foundation for a sustainable and inclusive creator economy. 
Artists can leverage these platforms to make direct connections with their audiences, monetize their work more effectively, and maintain greater control over their intellectual property.
The collaboration between OpenSea and the Zora network exemplifies the spirit of innovation and collaboration within the NFT space. 
By pooling their resources and expertise, the two entities are empowering creators, expanding access to collectors, and fostering a thriving ecosystem for digital art and culture. 
The integration of Zora's network with OpenSea's robust infrastructure is undoubtedly an important step in the evolution of the NFT market and sets the stage for further progress and opportunities in the future.
Statistics since the launch of Zora
Early Zora network statistics reveal impressive growth in the short span of two weeks since its launch. In that time, the network has already amassed a substantial following, boasting an impressive 50,000 collectors. 
Moreover, the community's enthusiasm for the Zora network is reflected in the number of ticks, which has reached an impressive 70,000 ticks. 
These statistics not only demonstrate the rapid adoption of the Zora network, but also highlight the platform's attractiveness to both collectors and creators. 
Zora's network continues to gain momentum and promises to become a thriving ecosystem that empowers creators and revolutionizes the world of digital art and culture.