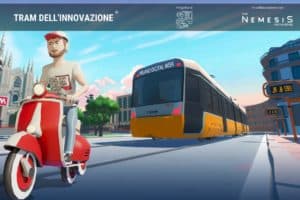 Tram dell'Innovazione®, the iconic Milan Digital Week event, evolves and moves into The Nemesis metaverse to ofer a unique and engaging digital experience to citizens and curious people of all ages. This initiative, now in its sixth edition, is conceived and organized by Women&Tech® ETS, and is an integral part of the Milan Digital Week 2023. This year's edition focuses on "Developing the limits for an inclusive, sustainable and ethical digital transition and technological innovation".
Tram dell'Innovazione® is known as a "place on the move" where citizens can listen to experts in digital transformation for free, with the aim of connecting technology to everyday life. During the event, industry experts will explore a wide range of topics, including smart mobility, cybersecurity, Internet of Things, user experience, artifcial intelligence, robotics and Enterprise 4.0. Special attention will be paid to the impact of digital technology on human relationships in businesses, families and society.
The initiative will take place from October 5th to 9th, 2023, with the ofcial presentation on October 5th during the opening event.
This year, Tram dell'Innovazione® will adopt an innovative approach. In fact, it will take place in the metaverse of The Nemesis, the entertainment platform that ofers experiences in virtual reality and in the real world through augmented reality, thanks to the creation of an exclusive virtual environment specifcally inspired by the city of Milan.
Participants will be able to enjoy an incredible immersive experience, represented by a 3D world that recalls the architecture of Piazza della Scala and Piazza del Duomo, the landmarks of the city of Milan. Thanks to a virtual journey on board the vintage tram or the ultra-modern Tramlink, two iconic vehicles, participants will be able to experience the Digital Week event from a totally new perspective.
This evolution will make the event accessible to everyone, even those who cannot be physically present, allowing them to participate in an engaging and interactive way through customized avatars.
Participants' avatars, once on board the virtual trams, will be able to attend live webinars and interact with the speakers in various ways, asking questions and taking part in real-time polls. These speeches will also be shown on big screens placed along the route. The whole experience will be enriched with exclusive gameplays and surprises, linked to the cultural curiosities of the city, which users will be able to discover by exploring the metaverse. For example, they will be able to obtain special skins created specifcally for the event.
Sponsors will also have dedicated areas along the route, with stores and access points, where participants can receive detailed information on specifc services or products.
The Metaverse of the event will be accessible by registering at this link http://www.eventbrite.it/e/709468197477 via iOS/Android smartphones or desktop browser.