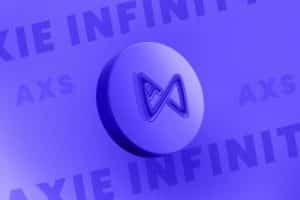 Axie Infinity (AXS) recorded a +15% price spike just after the announcement that the new crypto game Origins was launched on Apple's App Store. 
Axie Infinity: AXS's price increase thanks to collaboration with Apple
Just yesterday, Axie Infinity announced its new collaboration with Apple to launch the crypto game Origins on the App Store. 
For the occasion, the NFT and crypto video game company had to prepare its game in a different version in order to secure access to Apple's App Store. 
In fact, Origins is a card game that will initially give players free non-NFT "starter characters." This is a change from the original Axie Infinity game, for which users had to buy or rent NFTs.
Thanks to this launch, AXS experienced a 13% price pump on the same day yesterday, rising from $6.90 to nearly $8. 
Axie Infinity (AXS) expands on Apple and attracts new users with its Play-to-Earn game
The launch of Origins on Apple will initially allow only users of devices in Latin America and Asia to download Axie Infinity's game, which will thus increase its user base.
Specifically, these are users in countries such as Argentina, Colombia, Peru, Mexico, Venezuela, Indonesia, Malaysia and Vietnam.
And indeed, according to reports, the Axie Infinity ecosystem has already seen a 300% surge in new players joining the network, compared to just a week ago. 
To give you an idea, on 12 May, there were only 35 new users who joined the AXS network. In contrast, on 17 May, just 12 hours after Apple's news, the new wallet addresses created had already reached 137. 
After all, with more than 1.8 billion active Apple devices worldwide, it is not surprising that Axie Infinity has seen an increase in new users.
AXS price performance
The increase in adoption and demand for AXS in order to play Origins led to the increase in its price within hours. At the time of writing, however, AXS has settled at $7.30. 
This is a green position compared to a week ago, but still not too favorable when looking at the price of AXS a month ago. 
And indeed, AXS was worth $6.85 a week ago and $9.43 a month ago. Still far from its all-time high or ATH – All Time High recorded in early November 2021 at a price of $160. 
In any case, AXS remains in 56th position in the crypto ranking by market capitalization, while in the "gaming crypto" category, AXS is in fourth position, after ApeCoin (APE), The Sandbox (SAND), and Decentraland (MANA).