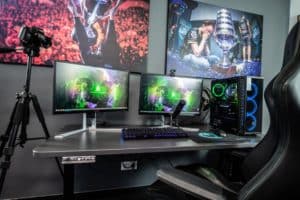 What are and how do the best blockchain games work, according to the different Play-to-Earn, Market Cap, UAW (Unique Active Wallet) rankings? Here is a mirror. 
The best blockchain games for Market Cap: leading the way is The Sandbox
According to Chainplay, the ranking of the best blockchain games for market cap has the popular games of The Sandbox, Decentraland, and Axie Infinity on the podium. 
In fact, at the time of writing, the market capitalization of these blockchain-based games are $682 million for The Sandbox, $655 million for Decentraland, and $572 million for Axie Infinity, respectively. 
These games became so popular both because they were among the first to enter the crypto world and because they rode the wave of the metaverse. 
Specifically, The Sandbox is a dynamic virtual world with user-generated creations, such as NFTs, avatars, virtual goods and games, using VoxEdit and Maker games. Here, there is opportunity to monetize through NFTs by trading on the Sandbox Marketplace. The blockchain game's native crypto by market cap is SAND, an ERC-20 token, and that is Ethereum based. 
The Sandbox's popularity has captured well-known brands in the real world, such as fashion house Gucci, which purchased a LAND and also launched the Gucci Vault Land event. Also coming on board the metaverse on blockchain was Playboy adult magazine, which created its own virtual Metamansion space. 
Not only that, many famous artists of the caliber of Snoop Dogg and Paris Hilton got on board as well. The former has created his own personal area where he can meet his fans, while the latter has created Parisland, a virtual meeting place for users to find their soul mates. 
The games on Decentraland (MANA) and Axie Infinity (AXS)
Decentraland also offers a blockchain-based game model similar to The Sandbox, riding the metaverse, with its ERC-20 token native MANA. 
Axie Infinity, on the other hand, in addition to the LAND NFTs like its predecessors, offers players the ability to obtain, collect, breed, and have battles by leveling up, funny digital Polémon-like creatures, the Axies.
Such Axies populate the fantasy world of Lunacia and share environments called Terrarium, to win in-game money. Again, the native ERC-20 token is AXS. 
Recently, Axie Infinity (AXS) achieved an extraordinary result, considered the highest earning token of the Binance Launchpad. 
Blockchain games: ranking by Play-to-Earn sees Galaxy Fight Club in the lead
If we look at the ranking of the best blockchain games for Play-to-Earn, Galaxy Fight Club is at the top, followed by Axie Infinity and Champions Tactics. 
Galaxy Fight Club is a play-to-earn game using the Ethereum and Polygon blockchain, in which players can buy and collect NFTs to fight and earn crypto rewards. 
Such NFTs are the game's avatar characters, called "GFTs" (Galactic Fight Tokens), each with specific characteristics and abilities so as to be unique and valuable. 
Each GFT can also be customized by equipping different weapons, armor and accessories, purchased from the game's marketplace. Battles take place in an arena where GFTs compete in one-on-one fights, while also participating in tournament challenges that promise to advance in rankings and earn greater rewards. 
The specialty of Galaxy Fight Club is to be cross-IP PVP, meaning that it allows the user to fight as any NFT, from Bored Ape or CyberKongz, as long as you have those NFTs in your wallet. Sort of like Smash Bros in the NFT universe. 
Champions Tactics, on the other hand, is a brand new play-to-earn game using only the Ethereum blockchain, still in its development phase at Ubisoft. 
Players can assemble a team of mythical champions, create exciting tactical battles against other players, and discover the legends of the dark and mystical world of Grimoria.
Champions are magical playable figurines in the dark world of Grimoria. Each of them is a living relic, an intricate embodiment of Grimoria's history. 
Each Champion has a unique appearance and abilities. To play and overcome your opponent, you must assemble a team of three of them and strategically use their abilities based on the opponent's deployment and actions.
UAW: Farmers World wins
On DappRadar, you can see the ranking of the best games for Unique Active Wallet (UAW). In first place is Farmers World with over 319 thousand UAW, followed by Alien Worlds with 139 thousand UAW and Solitaire Blitz with over 51,000 UAW. 
Farmers World is an NFT game Dapp developed on WAX's blockchain, dedicated to agriculture. And indeed, players can choose the right tools, explore various resources, buy land to build huge farms, and experience all the experiences of a farmer working in the world ecosystem. 
Specifically, farming players can farm gold and NFT with mining, use gold and wood to create tools and equipment, or catch fish for food that maximizes its strength statistics. On Farmers World's NFT marketplace, it is possible to purchase game tools, levels, game animals and farm building. 
In second place for UAW, there is then the blockchain game of Alien Worlds, a DeFi metaverse NFT games, developed on WAX. 
Alien Worlds works on a "collect and play" basis, involving NFTs to be used to create games, apps, events, and experiences. Simply mine and obtain Trilium tokens (TLM), an NFT game card and bet on one or more of the six planets or apply to become a planetary advisor or again, a candidate to rule the planet. 
Alien Worlds NFTs can be used to create games, apps, events and experiences. Kick off your NFT collection to get started!
Bronze medal, finally, goes to the blockchain game of Solitaire Blitz, developed on Flow Blockchain, and which is nothing but a new interpretation of the classic game of Solitaire. With Solitaire Blitz, players can earn RLY tokens.