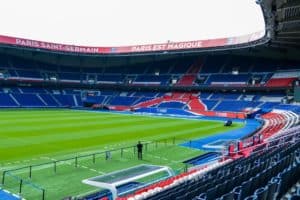 The famous Paris soccer team recently carried out a collaboration with the famous exchange Crypto.com to launch NFT version match posters generated by Artificial Intelligence (AI).
PSG partners with Crypto.com to launch AI-generated NFT match posters
In a pioneering fusion of sports, art, and technology, French soccer titan Paris Saint-Germain (PSG) FC has unveiled an innovative project that has caused a stir in the world of non-fungible tokens (NFTs). 
In collaboration with its sponsor, cryptocurrency exchange Crypto.com, PSG ventured into the realm of generative artificial intelligence (AI) to create a collection of NFT match posters.
Benjamin Benichou, an acclaimed artist known for his skillful use of generative AI in his creations, is at the epicenter of this artistic revolution. 
Benichou's artistry has resulted in an extraordinary series of 1,970 AI-generated designs, of which only seven have been selected for publication as NFT. 
These exceptional posters will grace PSG's landscape in seven highly anticipated matches of the current season, starting with the highly anticipated clash with Olympique de Marseille in France's prestigious Ligue 1 soccer league.
Soccer and NFT: a revolution at the frontiers of art
The collaboration between PSG and Benjamin Benichou represents a dynamic shift in the traditional boundaries of art and creativity. 
Fabien Allègre, Chief Brand Officer of PSG, underscored this path of transformation, stating: 
"Our collaboration with Benjamin Benichou has allowed us to better understand this new tool, which opens up endless creative possibilities. By continuing to explore new frontiers, Paris Saint-Germain strives to redefine the future of sports, opening unexplored horizons for new generations of fans."
These revolutionary Paris Saint-Germain NFT posters are not simply digital collectibles, but are intrinsically linked to specific match days, adding an authentic level of engagement for fans. 
Distribution of these NFTs will take place through airdrops to eligible accounts on Crypto.com's NFT platform. 
Collectors who manage to accumulate the entire series will have the opportunity to own physical prints of the artist's original works that were instrumental in the poster design process. In addition, fans will be able to aspire to get autographed jerseys from PSG players and even VIP tickets to the team's last home game, making these NFTs a prized possession for die-hard fans.
Crypto.com's partnership with PSG has its roots in a sponsorship agreement signed in 2021, with a staggering commitment of about 430 million over a three-year period. 
This monumental partnership has elevated Crypto.com to the esteemed position of the football club's first official cryptocurrency platform partner. 
Not only with Crypto.com: PSG's deals in the NFT world
However, it should be noted that PSG's immersion in the cryptocurrency world began before this historic alliance. In 2020, the club entered into a licensing agreement with Sorare, a major NFT fantasy sports game. 
In addition, soccer star Lionel Messi's transfer to PSG featured the involvement of the cryptocurrency Socios fan tokens, further cementing the club's pioneering position in embracing digital assets.
Reflecting on this momentous launch of NFT, Benjamin Benichou, who also serves as CEO of social e-commerce startup Drop, said:
"When exploring the potential intersection between an inspiring brand like Paris Saint-Germain and a powerful tool like artificial intelligence, the possibilities for creation become endless. This initiative paves the way for a new territory of artistic and creative expression where art meets technology."
In conclusion, the partnership between PSG and Crypto.com, culminating in the creation and release of artificial intelligence-generated NFT posters, marks a monumental step toward the convergence of sports, art and blockchain technology. 
These NFTs are set to redefine fan engagement, offering fans not only a digital keepsake, but also the potential for tangible artwork and exclusive experiences. 
As the worlds of sports and cryptocurrency continue to intertwine, PSG's innovative leap demonstrates its ongoing commitment to charting new ground in the ever-changing landscape of sports and technology.