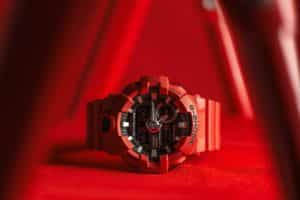 Japanese electronics giant Casio is releasing its virtual G-SHOCK watch in NFT format, developed on Polygon's blockchain. 
The collection is based on interaction between the brand and users, who will develop the design of the NFTs and receive access passes dedicated to the NFT-based community. 
Casio and the launch of the G-SHOCK NFT virtual watch on Polygon
Japanese electronics giant Casio has teamed up with Polygon Labs to launch the G-SHOCK virtual watch in Non-Fungible Token (or NFT) format. 
Starting today, an online community dedicated to the VIRTUAL G-SHOCK has been launched on Discord, providing access to Casio's new NFT path. Participation in the community on Discord is completely free. 
From 23 September, the G-SHOCK CREATOR PASS (GSCP) NFT collection will be launched, and its owners will be able to participate in the project by designing and voting on the look of their virtual Casio watch. 
In practice, users will be able to apply for one of the 15,000 NFTs that will serve as an access pass. 
Specifically, Casio customers who have already registered for a CASIO ID on the company's website can participate in the pre-distribution phase from 23 to 26 September. This will be followed by a public distribution phase from 26 to 29 September.
According to Casio's roadmap, further projects are already planned for October and December.
Casio and Polygon choose to launch their NFTs
The new partnership between Casio and Polygon will allow users to submit design ideas for the G-SHOCK Creator Pass and vote on its appearance. The winning design will become a variant of the NFT pass.
Casio said it chose Polygon because it enables lightning-fast transactions to make the process of minting and managing its NFTs seamless, convenient and emission-free.
In the words of Takahashi Oh, Casio's Senior General Manager for Timepieces: 
"At its core, our virtual G-SHOCK was built to be accessible, innovative and inclusive, meaning that user experience must be frictionless and simple. This is why Polygon was the most natural and logical choice for us," Casio Senior General Manager of Timepieces Takahashi Oh said. "The goal is for the company and users to work together and develop the G-SHOCK brand, which celebrated its 40th anniversary this year."
Currently, Casio's NFT collection will be available to residents of the US, UK, Germany, Italy, Netherlands, Spain, Portugal, Austria, Japan, India, Singapore, Indonesia, Malaysia, Thailand, Philippines and Vietnam. 
Ethereum scaling solution wins global brands
Polygon, Ethereum's scaling solution, seems to be continuously conquering global brands, becoming the base blockchain for many NFT collections. 
In fact, in addition to Casio today, Polygon has also been chosen by Coca Cola, Lufthansa, McDonald's and many others. 
In fact, in August 2022, global beverage giant Coca Cola chose Polygon for its second NFT collection in honour of International Friendship Day. 
McDonald's Singapore, on the other hand, used Ethereum's scaling solution in August 2023 to give away Grimace NFTs, whose PFP profile image cannot be exchanged once minted. 
Even airline Lufthansa Group recently announced that it plans to launch a Web3 rewards programme based on Polygon's blockchain, with the aim of rewarding passengers.