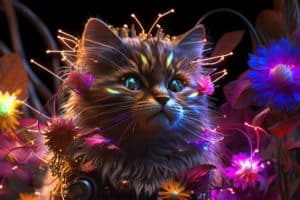 NFT sales recorded another decline this week, dropping 9.91 per cent from the previous week, despite a rise in the price of crypto. 
Specifically, according to the data, in the period from 24 September to 1 October 2023, NFT sales totalling around $72,767,450 were transacted, representing the last week of available data. See below for full details.
The disconnect between the crypto and NFT markets: an in-depth price analysis 
As expected, despite an overall growth in the crypto economy last week, NFT sales recorded their sixth consecutive decline. 
Specifically, in the period between 24 September and 1 October 2023, total NFT sales reached $72.76 million, a decrease of 9.91% compared to the previous week. 
Meanwhile, the number of NFT buyers increased by 17.77% to 569,407 and the number of NFT sellers increased by 15.82% to 714,889 last week.
Among the twenty-two blockchain networks tracked for NFT sales, Ethereum maintained its lead with sales of $37.27 million, accounting for 51.22% of the total. However, ETH-based NFT sales fell slightly by 1.16% compared to the previous week. 
Mythos NFT was in second place with $7.83 million in sales, up 13.12% from last week. Polygon was third with $7.12 million, while Solana was fourth with $5.86 million. 
Finally, Immutable X came in fifth with $5.47 million in sales.
In the top performing NFT collections segment, Mythos subsidiary Dmarket took the top spot with $7.76 million in sales, followed by Immutable X with Gods Unchained at $5.22 million.
Battle for the purchase of high value NFTs: Draftkings, Bored Ape Yacht Club and more in the running
Other top contenders in the weekly sales competition include Draftkings, Bored Ape Yacht Club (BAYC) and Sorare. In addition, the most notable NFT purchase this week was BAYC #591, which sold for a remarkable total of $177,710 on Opensea just five days ago. 
Meanwhile, on the Bitcoin blockchain, an NFT known as Ordinal Maxi Biz reached a value of $44,217 on Magic Eden's NFT marketplace. In addition, Solana saw the interesting sale of Boogle #066, which fetched $40,503, followed by Starcraft Planets on BNB, which fetched $32,544. 
The race for high value sales ended with Earth Node #268 on Cardano, which was bought for $32,100. These figures highlight the enthusiasm and diversity of NFT purchases on different blockchains.
PayPal files patent to create state-of-the-art NFT marketplace
PayPal, the NASDAQ-listed financial services company (symbol PYPL), has announced its interest in the non-fungible token (NFT) space by filing a new patent with the United States Patent and Trademark Office (USPTO).
The document reveals that PayPal intends to develop an NFT marketplace that will allow users to buy and sell digital collectibles. PayPal's proposed platform will allow users to list digital goods such as images, videos, music, event tickets, personal property deeds and artwork.
The document, filed on 21 September, provides detailed descriptions of both on-chain and off-chain NFT transactions using third-party service providers to facilitate exchanges. 
Specifically, settlement and custody services will be provided by an intermediary, while off-chain transactions will use an 'omnibus wallet' containing the address details of the parties involved. 
This means that transactions will not be recorded on the blockchain, and there will be no gas costs associated with on-chain transactions.
Although the document does not specify the nature of the service, it refers to the Ethereum network (ETH), suggesting involvement in tokenization and the potential for NFTs on PayPal's marketplace to earn royalties from secondary purchases.
In addition, the proposed NFT marketplace will support fractionalisation, allowing users to own parts of a digital collectible. This move is intended to improve the liquidity of digital assets and make investment more accessible.
In order to address the issue of liquidity, the document foresees the creation of a decentralised autonomous organisation (DAO) to ensure an adequate level of liquidity through a dedicated platform.
It should be noted that PayPal has committed to exploring Web 3 as early as 2020, allowing users to buy, hold and sell digital currencies. It has also recently launched the PayPal USD (PYUSD) as part of its payment services.