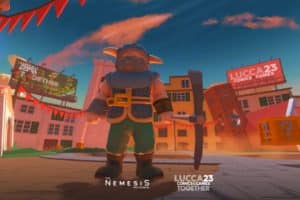 For the second year running, The Nemesis and Lucca Comics & Games are launching Luccaverse: the metaverse of the Web3 event, full of new challenges. 
The Nemesis and Lucca Comics & Games to promote Web3 in the metaverse
For the second year in a row, The Nemesis is partnering with Lucca Comics & Games, the biggest annual festival of comics, animation, games and video games in Lucca.
In fact, the main focus of this year's Lucca Comics & Games is the dissemination and in-depth study of emerging technologies such as the metaverse, NFT, blockchain, web3, artificial intelligence, virtual and augmented reality, generative art and much more.
For this occasion, "Communityverse" has been created, an experimental cultural section located on the border between the physical and digital worlds, entirely dedicated to new technologies and contemporary languages. 
It will be five days of intelligent dissemination in which guests and experts will lead the public on a discovery tour of the near future.
In addition, a key element of the partnership is the creation of "Luccaverse", the metaverse created and launched in 2022, which will also be relaunched for the 2023 edition.
The Nemesis and Lucca Comics & Games on the Web3 Luccaverse Metaverse
This year's Luccaverse seems to be even richer: a virtual environment offering participants the chance to earn digital (redeemable online) and physical rewards.
Here is the announcement on X:
"Draw your swords, players! The secret is out and the #DuelArena awaits in the virtual realm of @LuccaCandG! Fight and claim your moments of glory on your way to victory. Enter the arena NOW! https://thenemesis.io/@luccaverse"
In practice, from 2 October, users will be able to access a special virtual arena (set in Lucca) to play the brand new Duel Arena game. 
In the following days, the Luccaverse will be explored in its entirety with new content and challenges: speed runs, trivia quizzes and even quests with missions that will highlight the city's points of interest for an edutainment type of storytelling.
In addition to digital rewards such as special avatar skins and other platform rewards, some games will also offer real-world prizes (such as official Lucca Comics & Games merchandise) that can be picked up directly during the Festival.
The Nemesis is pleased to continue supporting Lucca Comics & Games in their mission to explore the future of emerging technologies.
Best virtual worlds of the Web3
In July 2023, The Nemesis was mentioned in Metaversed's Metaverse Report in the ranking of Web3's top twenty virtual worlds, along with The Sandbox and others. 
The Metaverse Index Web3 ranking was completed with blockchain-based virtual worlds. 
For the month of July 2023, both The Nemesis and Sandbox were ranked number one. Both companies seem to be successful in bringing real-world brands to their platforms, attracting and increasing the number of monthly active users (MAUs). 
Blankos and Portals follow as the best Web3 virtual worlds. At the bottom of the ranking are Numi Club and Ultra.