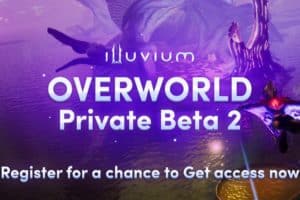 Yesterday, the announcement was made of the launch of Illuvium: Overworld Private Beta 2. 
This is an update to the online game Illuvium that brings new features, new mechanics, and new Illuvials to the game to provide an even more immersive and engaging experience for players.
A tutorial has also been posted on YouTube explaining the new features introduced by the update. 
The Illuvium ecosystem
Illuvium is a blockchain-based game studio that combines collecting and combat to explore the benefits of decentralized finance and non-fungible tokens (NFTs). 
The goal is to offer a unique and immersive gaming experience that allows players to discover and collect Illuvials, engage in strategic battles, and participate in the game's community.
The latest update
The update launched today promises to introduce many new features to the game to elevate the gaming experience to levels never before seen within this ecosystem. 
Dedicated beta testers can already log in to download and play Overworld Public Beta 2, and the Illuvium team invites all players to log into their accounts and download the latest version of the game.
Private Beta 2 introduces two new regions, the Abyssal Basin and the Brightland Steppes, each with a distinct environment and landscape. It also introduces new Illuvials that will join the fight in the Arena and Overworld experiences. 
In addition, the interactive plant feature allows you to see flora react to environmental elements, and some new movement mechanics have also been added to the player's basic suit. In addition, server integration now stores most of the game information, making it easier to reconnect.
The new features introduced by Illuvium 
The Overworld Beta 2 update will also introduce some innovative features, including Morphopods, Overload mechanics, new movement mechanics such as Slide and Glide, and new environmental mechanics such as Lilypad and Bubble. 
In addition to gameplay improvements, Overworld Beta 2 will also introduce more than 30 new Illuvial characters, allowing players to collect and evolve their own roster.
The number of beta participants in Illuvium: Overworld Beta 2 will increase from 30,000 to 75,000, allowing more players to experience the game's features and improvements, even though there are now as many as 2 million registered beta users.
Future developments
Illuvium is working to bring its game to mobile devices as well by the end of the year, with Illuvium: Zero. This development would like to be a significant leap forward for crypto games, expanding accessibility and introducing the world of blockchain games to mass audiences.
Illuvium also plans to launch an open beta of all three games, Illuvium: Zero, Illuvium: Arena and Illuvium: Overworld, by the end of the year, so as to further expand its offerings to players. 
Once the open beta is active, players will be able to collect, buy and sell NFTs.