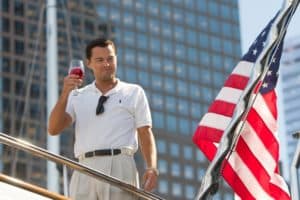 The new NFT collection based on the famous film The Wolf of Wall Street will be launched on 20 June, giving fans the chance to own a share of the blockbuster.
The Wolf of Wall Street NFT: fans can own a share of the film's profits
LALA, the world's first digital collectibles marketplace that allows fans of TV shows and movies to own a piece of the revenue stream, is launching its next NFT collectible with "The Wolf of Wall Street".
The new NFT LALA x The Wolf of Wall Street collection will be launched on 20 June and promises benefits and rewards, including a percentage of the film's revenue, official merchandise, access to exclusive content, memorabilia, community and events.
Fans of Leonardo DiCaprio and Martin Scorsese's iconic film will therefore be able to own part of the film's revenue, as well as access to never-before-seen footage. The exclusive drop will be available first to the LALA community and then to the general public.
Once LALA insiders receive notification of the release of the LALA x The Wolf of Wall Street drop on 20 June, they will have access to purchase digital collectibles in three different tiers, each associated with different perks, benefits, scarcity and a fractional percentage of the revenue stream based on the tier.
The artwork was designed by Paolo Torres, the Peruvian pop surrealist artist best known for his work with fashion houses such as Fendi and Ralph Lauren.
The Wolf of Wall Street NFT and the LALA Business Model
Upon purchase, the collectible artwork will be unveiled on the user's dashboard, where fans will also have access to a unique rewards system and learn how to unlock their perks.
These rewards, as well as surprise perks, will be unlocked over time as fans engage with the collection, reigniting and extending their love of the film beyond the credits into a vast ecosystem.
Typically, every time a new film is released, revenue is generated from ticket sales, licensing fees and ancillary revenues such as merchandise sales. 
Illegally copied versions of films and unauthorised merchandising, on the other hand, can reduce revenues and jeopardise intellectual property.
Through this collection, LALA shares with fans the revenue generated by IP infringement takedowns. 
These takedowns remove unauthorised copies or uses of copyrighted material from public view, helping to protect the film's intellectual property. 
In this way, LALA is breaking new ground by working directly with intellectual property owners, starting with The Wolf of Wall Street NFT, to develop and generate a revenue stream that gives back to the fan community while ensuring the protection of the film and its value. 
The Wolf of Wall Street NFT: sharing the profits while protecting the integrity of the film
In this way, LALA collectors can share in the profits while protecting the integrity of famous and beloved films or shows, simply by owning the corresponding LALA digital collectible.
LALA is incubated at Alexis Ohanian's Seven Seven Six venture capital fund, who commented on the collection: 
"Having worked extensively in online communities, I saw how Web3 was opening up opportunities for people to connect with big brands and intellectual property like never before, and I wanted to extend those opportunities to film and TV. 

We decided to incubate LALA at the company to provide a best-in-class product and experience, unlocked by blockchain technology, that allows fans to deepen their relationship with specific films or shows. 

LALA creates a win-win scenario that helps the entertainment industry better promote projects and cultivate relationships with fans, while creating an unprecedented ownership experience. I am thrilled to be part of this exciting new direction for the entertainment and Web3 communities".
Hiram Vazquez, CEO and founder of LALA, also commented: 
"I am thrilled to launch LALA in partnership with such an iconic title as 'The Wolf of Wall Street'. This partnership is a testament to the impact we believe LALA can have on the entertainment industry and fans. 

By providing this unique access and interaction with movies and TV shows, LALA gives the industry a platform to engage directly with the fan community for both new releases and existing IPs, while allowing fans to tap into their nostalgia for these stories. I firmly believe that giving fans this property will deepen their connection to Hollywood for years to come".
Jordan Belfort and Bitcoin
Quoting the film dedicated to him, it's fair to say that the real Wolf of Wall Street, Jordan Belfort, is bullish on Bitcoin, even if he hasn't yet been 'right' with his price predictions. 
In fact, it was 2021 when Belfort spoke out on crypto, declaring that bitcoin (BTC) would reach $100,000. 
The US entrepreneur and author predicted a bullish trend and a new ATH (all-time high) of BTC with five zeros, just before the long crypto winter that marked 2022. 
In any case, Belfort explained that in his view, bitcoin is pure supply and demand, free from the distortion of actually printing more of your own currency. In practice, Bitcoin differs from stocks in that its supply is fixed. 
In fact, if a share stays in the pump for too long, the company will continue to print shares, but their value will decrease. Something the crypto world is not interested in.