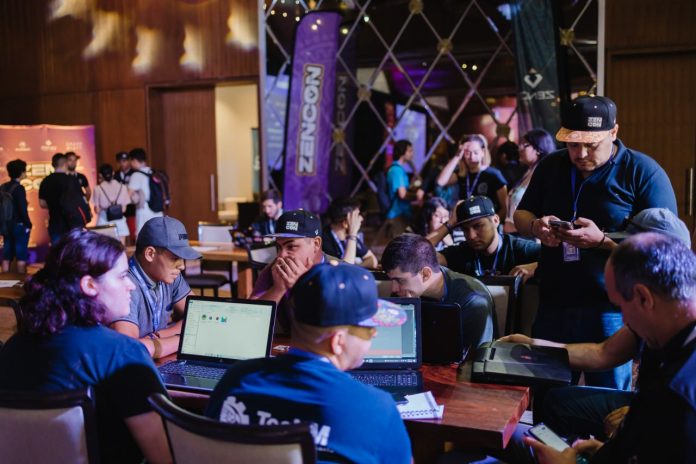 Over 200 participants and attendees of the 68-Hour-Hackathon produced 24 projects across 5 categories on the newly introduced ZENIQ Smartchain. Conference to return next year.
It wasn't only the views that were breathtaking. Once the virtual dust had settled, so were the results of the inaugural "ZENCON Technology Conference and Innovation Awards Hackathon" at the Grand Hyatt Hotel conference location in Playa del Carmen, Mexico.
Under a strict time limit of just 68 hours the attendees of the Hackathon event produced stunning results that made the high-caliber jury of Shahin Kamran (Vice President Blockchain Product Development & Innovation at Mastercard), Oderli Ferriani (CEO TUPAN.io a S.E.C regulated token), Rodrigo Espinosa (DIRECTOR at Greentech cluster & International Cleantech network), Mag. Erwin Dokter (CEO of ZENIQ(R) Technologies Ltd.) and Fernando Unzue (Business Technical Director in Data Loyalty) wonder if it would be fair to declare winners.
"We knew we arguably had some of the brightest minds in blockchain development on site here in Mexico. But then these hackers came storming out of the gates and the results were nothing short of spectacular," said Dokter, co-founder of ZENIQ, the company behind ZENCON. "It's exactly what we hoped for – an in-person event that would spark creativity and showcase what the ZENIQ Blockchain and Smartchain really are capable of."
It is fair to say that the conference checked both boxes. In total, 200 developers and innovators attended the conference, making the inaugural event a resounding success. 24 projects were created across five categories. Eventually, the jury had to make a call and awarded these projects prizes ranging between 10,000 and 20,000 USD.
The second inaugural "ZENCON Technology Conference and Innovation Awards Hackathon" will be held in June 2023. The location will be announced at a later point in time.
CATEGORIES & WINNING PROJECTS
In the "Metaverse/Gaming" challenge, contrary to expectations, two extraordinarily exciting projects will share the $20,000 with $10,000 per project.

TeMe – An easier and more fun way to manage the information of the company's employees (10.000$)
Netverse (A metaverse-project where the players can challenge each other for an amount of ZENIQ tokens) (10.000$)


In the "NFTs/Tokenization" challenge, the $20,000 prize money will be distributed to the N Farm project. N Farm is an NFT platform for the certification of food of animal origin that facilitates normative export.

In the Challenge "Decentralised Finance (DeFi) & Defi 2.0", the $20,000 prize money goes to the True Commit project. The team builds accountability into finance and links investments directly to final purchases.
The $20,000 of "The world of Web 3.0/Tools & Infrastructure" Challenge was won by the team "Data Link". The team focuses on incentives for data sharing and credential verification in the chain.

The category "B2B/B2C solutions on the ecosystem" presented a particularly exciting picture for all participants. The top prize of $20,000 went to DemeterGift. Their project focuses on fundraising as a service on the web3.

In addition, there were two special prizes that no one had expected. One was the Huitzil project, which simplifies the creation of smart contracts. The other was the FiDora project, which specialises in the decentralisation of real assets. Both projects were accepted into the ZENIQ Incubator Programme.
QUOTES
"ZENCON was a wonderful experience and I cannot wait to be a part of the next edition", Damiany Rosales, Durango-Mexico
"I learned a lot about blockchain in general and how to interact and meet a lot of people from a lot of countries", Salvador Gutierrez, Durango
"We came here with no expectations and were very pleasantly surprised to find so many motivated talents from all over the world. We are convinced that ZENIQ is creating a platform that will change the world for good. ZENIQ to the moon!", Balint Tatai, Austria
"A fantastic hotel and a great opportunity to meet wonderful people and very well organised.
My team and I are already looking forward to next year's event!" Vitali Kromine, London UK
About ZENCON
Introduced in 2022, ZENCON by ZENIQ is an annual technology conference and event to unleash the power of the ZENIQ blockchain technology. With more than 11,000 applicants for only 200 coveted spots, the ZENCON Hackathon will feature some of the world's finest blockchain developers and innovation leaders. ZENCON 2022 is being held in Playa del Carmen, Mexico from June 3-8, 2022. More information about ZENCON can be found by visiting www.zencon.io.
About ZENIQ Technologies Ltd.
The blockchain project was launched in 2018 and ZENIQ Technologies Ltd. was officially established in May 2021. It is a research and development company that develops customised, proprietary software and hardware solutions based on blockchain technology. Based in Dubai, UAE, the company has quickly made a name for itself with the ZENIQ Hub, a unique hardware device for fully integrated decentralised usage of blockchain applications. Learn more about the ZENIQ ecosystem at www.zeniq.com.
Media Contact:
Eric Heinemann
CMO of ZENIQ Technologies
PR Contact: