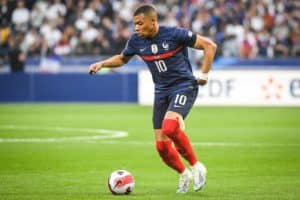 French player Kylian Mbappé, with his $100 million annual salary, joins Sorare's NFT fantasy football (soccer) world.
Mbappé and his collaboration with French startup Sorare NFT
Famed French soccer player, Kylian Mbappé, has come aboard the famous fantasy football brand with NFT cards, Sorare.
Followed by Messi and Griezmann, Mbappé, who earns a $100 million annual salary, decided in June 2022 to invest in the Web3 world.
Specifically, Mbappé acquired a stake in the French startup Sorare as his first investment in the Web3 world, his only NFT card was purchased for about 416,000 euros by the buyer "Team Bamby."
To celebrate that accomplishment with Sorare, the French champion shared a story on Instagram with his 100 million followers.
In return, Sorare contributes to his "Inspired By KM" (IBKM) association, which develops educational projects and helps disadvantaged youth discover the opportunities offered by Web3 technology.
Sorare, which boasts 1.8 million users worldwide and is valued at $4.3 billion, provides training, conferences, materials, and a special diploma for the young people IBKM works with.
Mbappé: a star beyond football and Sorare NFTs
Mbappé is a star not only in football and in the French startup Sorare NFT, but also in other international markets in different sectors.
Together with his father, mother, and his main consultant Delphine Verheyden, Mbappé transcends his fantastic sports performance with bonuses and advertising contracts.
The world's highest paid player has registered five trademarks with the European Intellectual Property Office, and they are: KM EDITION, KM MODE, ZEBRA VALLEY, SAZILEY PROD and OHZORA. 
Not only that, Mbappé has collaborated with brands in clothing, jewelry, belts, video games, and even toys or eyewear.
Some of the most famous names include American sports equipment manufacturer Nike, Swiss watchmaker Hublot, French luxury house Dior, the FIFA video game developed by EA Sports, and American eyewear manufacturer Oakley for an estimated total earnings of 4 to 5 million euros.
Apparently, plenty of brands have gone crazy for Mbappé when it comes to sponsorship, making him the go-to recipient par excellence for brands that want to associate with his image as a football star.
Mbappé: his popularity in the US and his donations
Riding the sponsorship wave, Mbappé is already a star in the European market. However, following his visit to the US territory, the French player realized his popularity also in the US, perhaps in view of the upcoming World Cup 2026.
And indeed, he has already appeared on the big screens in Times Square in New York with the new Air Zoom Mercurial cleats designed by the brand he is under contract with.
He also launched his production company, Zebra Valley, in July 2022 with great fanfare, declaring:
"The strategic partnership between Zebra Valley and the NBA represents an important step in uniting soccer and basketball fans around superior content, telling stories that matter."
Then again, Mbappé is capable of expressing himself in both English and Spanish, and has mastered communication to perfection.
The celebrated French player is also a champion of giving back. Back in 2018, Mbappé donated all his bonuses, totaling 350,000 euros, to the association Premiers de Cordée, in favor of hospitalized children. 
Not only that, over time Mbappé offers his earnings with the French team to his philanthropic association, Inspired By KM (IBKM), which develops educational projects for disadvantaged youth in connection with Web3 technology.
Both during COVID and not, the player donated thousands of euros to charities, a different one for each match, after finding a legal agreement with FFF to send them directly without going through his bank account. In this regard, speaking about this in Time in 2018, Mbappé said:
"I earn enough money – a lot of money. So I think it is important to help those who are in need. A lot of people are suffering, a lot of people have diseases. For people like us, giving a helping hand to people is not a big thing. It doesn't change my life, but it changes theirs. And if it can change theirs, it is a great pleasure."
Sorare and the four-year partnership with the Premier League
Sorare, with all the champions it welcomes to its blockchain-based fantasy football game, got a new four-year partnership with the Premier League last February.
This will also allow fans of English clubs to connect with their favorite clubs and players in a whole new way.
In fact, thanks to the new agreement, fans will be able to collect, buy, sell and trade officially licensed NFT digital cards featuring all players from the 20 Premier League clubs.
Not only that, much like managers, fans can also build and compete with custom teams to win big prizes.
The blockchain game also extends to other global soccer competitions, as Sorare boasts of partnerships with more than 300 soccer clubs and teams around the world.
Lionel Messi on Sorare NFTs
It was November 2022, a few months after Mbappé joined, that the partnership between French startup Sorare and seven-time Ballon d'Or winner Lionel Messi was made official.
Messi has won the Copa America 2021, four UEFA Champions Leagues, three FIFA Club World Cups and 11 championships in Spain and France. He has more than 160 caps for Argentina and boasts more than 750 goals scored in his career in both club and national teams.
With this partnership, Messi has also become an ambassador for Sorare. The French startup is a free-to-play game, based on NFT technology and blockchain.
Initially, the platform featured only football as a sport and then the ability for users to create teams of 5 players with 5 NFT cards and win or lose based on the results of real matches.
Later, Sorare created other games, expanding with partnerships in baseball and basketball with large contracts such as the US NBA.