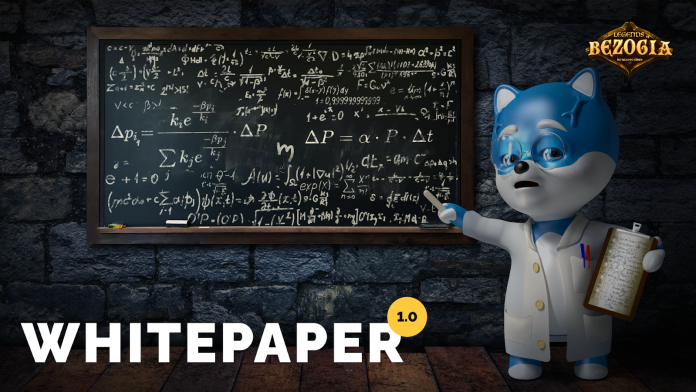 ZOGI Labs Ltd. reveals shocking whitepaper detailing next-level blockchain gaming mechanics never seen before in the industry. Eliminating core industry issues like token inflation, the team has formulated proprietary formulas that algorithmically balance a sustainable gaming economy inside Legends of Bezogia. Featuring next generation graphics, a rich and deep storyline along with playable NFTs, Legends of Bezogia is set to take the industry by storm by giving crypto-enthusiastic gamers an MMORPG that truly looks and feels like a deeply immersive game. The Legends of Bezogia resembles a triple A game with showstopping gaming mechanics that will keep players keen for years to come. For full details on everything Bezoge, the whitepaper linked below reveals all. 
Click to learn more – whitepaper.bezoge.com
$Bezoge Becomes Fully Integrated with ZOGI Labs
Working closely with ZOGI Labs, Bezoge token is the key peg for all products in the pipeline of the company. With many planned projects coming in the future with ZOGI Labs, Bezoge is set to benefit directly from the integration starting with The Legends of Bezogia. Bezoge Earth ($BEZOGE), an ERC20 utility token on the Ethereum network and the primary token in the ZOGI Labs decentralized ecosystem. $Bezoge will become the asset of choice for any holder looking to passively or actively participate in this ecosystem. $Bezoge is intended to be a utility, reward, access, and incentive token with the design to generate revenue (both active and dynamic) from all current and future products of the organization. Throughout game development, bi-weekly AMA's and community updates, current $Bezoge holders have already been rewarded with reflections alongside many holders who were given the opportunity to be rewarded in-game items by a snapshot taken earlier last year. With massive updates and game development accelerating at a rapid pace, this is just the beginning for The Legends of Bezogia, which will set new standards in gameplay, graphics, and play-to-earn mechanics in the crypto gaming industry in 2022.
Fully Utilized Staking
Staking is fully implemented in The Legends of Bezogia, which is active in both dynamic rewards (revenue generated from the in-game economy) and Launchpad benefits, which works with early access in the form of discounts on new products and NFTs. The Legends of Bezogia is a game where users from all backgrounds, regardless of crypto ownership or knowledge can get involved and be rewarded for activity and loyalty. Set to be the best play-to-earn crypto MMORPG for non-crypto people, The game has stacks of content to get through for both serious and casual gamers alike.
Introducing Magical Blocks
Magical Blocks ($MBLK) is the main in-game token used throughout The Legends of Bezogia MMORPG and metaverse, along with all future titles and releases by Bezoge Earth. Magical Blocks will be the first-ever token offering in the industry to launch with over 30,000 holders of its native governance token $Bezoge, which is already maturing as a top-quality coin with over $3,000,000 in investment for development and over a year of marketing and community building. This token is specifically designed not to create inflation of in-game currencies by way of multiple utilizations including summoning Bezogi, Minting NFTs, and leveling up characters. 
The whitepaper published contains all proprietary formulas, which represents Bezoge Earth & ZOGI Labs' contribution to decentralized gaming and a foundation for all future blockchain games to be developed upon. By making it public, the team expects to see improvements in this industry segment and hopes to encourage collaborations.
$MLBK can be used for the following in-game scenarios
Paying for NFT items, characters and skins in Bull/Bear Market (in-game NFT secondary marketplace) 
Summoning/Breeding more Bezogi NFT characters
Minting weapons, armor and consumable items  
Entry to PVP arenas 
Buying XP boosts 
Following the launch of $MLBK, there will be a fundraising round taking place in Q3 2022 where institutional and accredited investors will be invited to participate. Exciting things are coming to the world of Bezogia.
For more information on The Legends of Bezogia please visit https://bezoge.com
Buy Bezoge: https://www.bezoge.com/bezoge-token/exchange-uniswap
About Bezoge Earth:
Founded in 2021, Bezoge Earth, under the game title of The Legends of Bezogia is an emerging Crypto-based MMOPRG Play & Earn Blockchain Game, available in Alpha on PC & Android-based devices, with the full global release planned in Q3 2022. 
Bezoge Earth's portfolio of products begins with Legends of Bezogia, alongside the $Bezoge token and Bezogi/Petzogi NFT's. Bezoge Earth's products are designed for maximum functionality working cross-chain with cutting-edge technology representing the future of the crypto gaming industry. 
Press Contact 
For more information on The Legends of Bezogia please visit https://bezoge.com
Press Contact