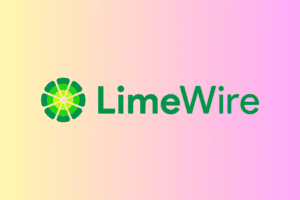 LimeWire, the platform dedicated to NFT content creators and artists, has raised $17.75 million through the sale of its LMWR tokens. 
Now it is time to move forward with the next development steps. 
LimeWire NFT raised $17.75 million through the sale of LMWR
LimeWire, the platform that has relaunched itself in the NFT industry, announced that it has raised $17,750,000 from the sale of LMWR, its native token.
In essence, this is a new version of LimeWire, formerly known as a torrenting solution when it operated as a peer-to-peer file-sharing service in the 2000s. 
Now, LimeWire NFT calls itself a platform dedicated to content creators, artists and brands to create membership-based communities. In practice, creators can create recurring revenue streams by offering fans exclusive access to their community and their journey as artists. 
Its LMWR token acts as an exchange currency on the platform and offers holders several benefits, including community voting rights and early access to merch.
Through the sale of LMWR, LimeWire has raised an amount that will allow it to proceed with its next development steps focused on its new NFT marketplace. 
LimeWire NFT and the new platform for content creators and artists
Relaunching LimeWire were the platform's new co-CEOs, Julian and Paul Zehetmayr, two Austrian brothers who acquired the rights to LimeWire from the previous owners.
Their mission is to be able to leverage nostalgia to turn a 2000s cultural milestone into a Web3 success story.
And indeed, while the plan now is to make LimeWire NFT the platform par excellence for content creators and artists, the Zehetmayr brothers had already put their strategy into practice when they launched LimeWire Game.
Even at that time, an initial public sale of LMWR took place, while the desktop-only game asks players to revisit the old LimeWire by downloading as many songs from the early 1980s as possible (without hitting a virus). Players with the six highest scores were awarded LMWR tokens as rewards.
In contrast, speaking of the first wave of LMWR distribution, the sale was private and ended last April with the raising of more than $10 million and the support of musicians such as Deadmau5 and Steve Aoki. 
To date, this relaunch of LimeWire NFT will serve to work alongside artists, and to facilitate exclusive music experiences.
LMWR's listing on major crypto-exchanges and price dump
As of yesterday, LMWR was listed on major crypto-exchanges by ByBit, Kraken, KuCoin, Gate.io, Crypto.com, Bitpanda, and others. 
Taking a look at CoinMarketCap, LMWR's price story begins just yesterday, 16 May. LMWR landed on the market at a price of $1.92 and has dumped 85% to touch $0.29 at the time of writing.
In this regard, LimeWire explained the situation to its most concerned traders as follows: