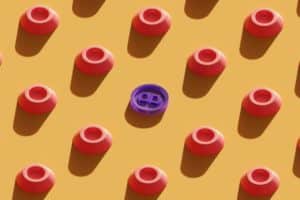 Polygon continues to make strides in the NFT sector, but its native crypto, MATIC, is still struggling to take off. 
Although the transition from MATIC to POL has already begun, the market value is still at the level it was at the beginning of the year. 
Crypto analysis: NFT growth on Polygon
Polygon is increasingly establishing itself as a viable alternative to Ethereum in the NFT space. 
Indeed, despite being a Layer-2 of Ethereum, it has much lower transaction costs, which is very useful at a time when the NFT market is suffering. 
Ethereum still clearly dominates this market, but it has transaction costs that are incompatible with most NFTs, especially those with low or even very low market value (not to mention the free ones). 
And so Polygon is becoming the best alternative to Ethereum in the NFT sector, although there are other chains whose use is spreading. 
The problem is that the NFT market has been in steep decline for more than a year now, which means that Polygon's expansion in this sector does not have a major impact on the price of its native cryptocurrency.
Polygon and Magic Eden: the crypto and NFT landscape
In particular, it is the Magic Eden marketplace that is currently doing the most on Polygon. 
Despite the fact that it is a marketplace for NFT born on Solana, it is opening up more and more to Polygon in particular. 
Yesterday, for example, they announced a number of new features to be launched on this chain. 
Among the new features are simplified statistics and analysis, redesigned profile pages and collections, tabs to make it easier to manage orders, simpler listings and better sorting of traits. 
An aggregation tool and the Polygon API have also been added. 
This all goes hand in hand with the initiative, in partnership with Yuga Labs, of a new marketplace that allows creators to earn royalties for the use of their work. 
According to Magic Eden co-founder and CEO Jack Lu, they are just "scratching the surface" of what is possible on Polygon.
The NFT market
This is clearly a function of what might happen to the NFT market in the coming months or years. 
Indeed, the current situation is far from rosy. 
According to DappRadar, Magic Eden has been a minor marketplace in terms of NFT volume traded over the past 30 days. 
In first place is Blur, which has dominated the sector for months, but with only $218 million in one month. 
As a point of reference, the main crypto exchange in circulation (Binance) has seen over $8 billion in spot trading volume in the last 24 hours alone, while Blur has seen less than $11 million in the last 24 hours. The ratio is almost a thousand to one. 
Furthermore, the second most active NFT marketplace over the last 30 days is OpenSea, with a monthly volume of only $70 million. Magic Eden, for example, has not even reached 1 million dollars in the last 30 days. 
These figures explain very well why the positive news about Polygon coming from the NFT marketplace is not able to influence the price of its native cryptocurrency. 
MATIC and POL
MATIC is Polygon's old native cryptocurrency, which is now being replaced by POL. 
POL made its debut on the crypto markets at the end of October and since then its price has risen by 20%. 
On the other hand, going back further in time and using the price of MATIC as a reference, we see that the price has increased by 36% in the last 30 days. 
However, the current price level of around $0.77 is exactly where it was at the beginning of the year, so while other cryptocurrencies such as Bitcoin have risen by more than 100% in this 2023 (ETH, for example, is up 60%), MATIC is practically flat. 
In fact, its price has moved during 2023, but without a clear upward trend. 
In February it peaked at over $1.5 for the year, only to fall to under $0.6 in June. From the second half of July, a new downtrend began, which peaked in mid-September at around $0.5. 
It is likely that the introduction of POL as an alternative to MATIC served to lift the fortunes of a cryptocurrency that otherwise seemed destined for an even greater fall, although it should not be forgotten that at the end of 2022, before the start of the last major bull run, its market heat was even below $0.02. 
This last comparison suggests that the boom in 2021 was exaggerated, so much so that the $2.92 reached in December 2021 seems absurd. Since then, MATIC, now POL, has lost 75 percent, while ETH, for example, has lost 'only' 62 percent since its November 2021 highs.