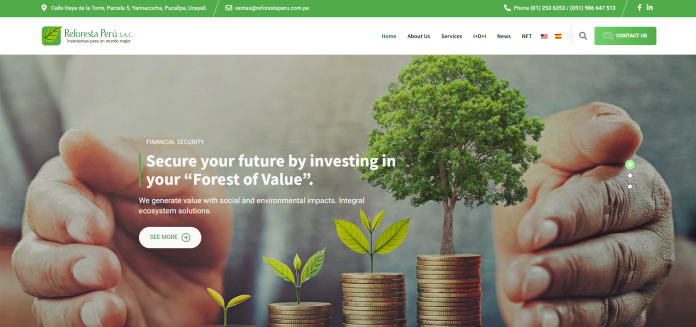 The Amazon rainforest — the largest on Earth — once covered about 6.5 million square kilometers. However, human activities have seen much of the world's remaining forest degraded and converted to other land uses.
Reforesta, a leading forestry design, and conservation initiative – is taking steps to restore the Amazon Forest – the lungs of the earth. Reforesta will mint 7777 unique "Totem Guards" NFTs to raise $1 million to fund a reforestation initiative to plant teak and eucalyptus trees in the Amazon.
Saving the Amazon Forest
Eucalyptus and teak trees are key buffers against climate change. They provide crucial carbon sinks that absorb significant amounts of carbon dioxide and other greenhouse gasses that contribute to global warming. These trees also provide critical habitat for native wildlife and watersheds that supply farms and communities living around the Amazon.
However, wood products from natural forests are declining due to high growth demand in other regions. Eucalyptus tree prices keep rising every year due to increased use in the furniture and paper industries. Eucalyptus sales from tropical forests in Chile have increased more than 10 times over the past decade.
For over 13 years, Reforesta has been designing and implementing projects and forestry plantations of native and exotic species for commercial, industrial, and environmental use. Now, the project wants to bridge the Amazon and the crypto world by using non-fungible tokens (NFTs) to spur action.
Totem Guards NFTs depict the guard spirits of the Amazon rainforest who gathered together and reached out to people for help. These guard spirits have been connected by one goal – to save the Amazon Forest. Owning any Totem Guard represents your commitment to helping restore the diversity of Amazon Forest through reforestation.
All proceeds from Reforesta's NFT sales will be used to reforest the Amazon Forest with teak and eucalyptus trees.
Each Totem Guard is an amazing image of a tree generated by artificial intelligence – ensuring that each NFT is special enough for each holder and no two Totem Guards are the same. Not only does your Guard emanate strength and courage, but it also grants you membership access to the Reforesta community and future Reforesta projects and events. Holders can also keep track and view how many trees they help to plant.
Join the Totem Guards NFT Minting
The Totem Guards NFT minting will happen in three stages: the first batch will be launched on [date TBC]. The entire NFT collection can be viewed on Reforesta's official website. The minting process is entirely secure via the MetaMask wallet. To participate in the minting, you will need to use Ether as the token and Ethereum as the blockchain network.
To view, purchase, and learn more about the entire NFT collection, please visit:
Website: http://reforestaperu.com.pe/
Twitter: https://twitter.com/reforesta_offic
Discord: https://discord.gg/JubWfQ4vKu