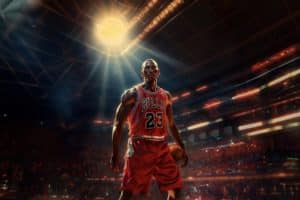 Sorare, in partnership with the NBA and the NBPA, is set to redefine the fantasy sports landscape with the launch of Sorare NBA Second Season, an extraordinary fusion of cutting-edge NFT technology and the sporting prowess of the NBA's brightest stars. 
This article delves into the intricate details of this groundbreaking initiative, which promises a transformative experience for fans and users alike.
Sorare announces second season of NBA partnership: spectacular 3D NFT card line-up and unique gaming experiences
Paris, 19 October 2023 – In a momentous union of sport and digital innovation, Sorare, the global sports entertainment company with 3.5 million registered users, will unveil the second season of Sorare NBA. 
This unique collaboration with the National Basketball Association (NBA) and the National Basketball Players Association (NBPA) promises a new user experience, packed with cutting-edge 3D maps, engaging features and new content partnerships.
Sorare's second season introduces an innovative campaign featuring some of the NBA's most illustrious names. Donovan Mitchell of the Cleveland Cavaliers, Jalen Brunson of the New York Knicks, Paolo Banchero of the Orlando Magic and Mikal Bridges of the Brooklyn Nets are at the heart of this season's offering. 
With innovative 3D maps, exciting features and a wide range of content partnerships, the promise is compelling. NBA Game Week on Sorare kicked off on Tuesday 17 October and will culminate with the start of the 2023-24 NBA season on Tuesday 24 October.
Sorare: line-up of NBA ambassadors and celebrities
Sorare's second season brings with it a cast of celebrities to elevate its status, with new ambassadors such as WorldWideWob, Brycent and Mike Zakarian leading the way. 
These celebrities will engage with their communities through exclusive events during launch week and offer a host of exclusive rewards throughout the season. Livestreams on platforms such as X, YouTube and Twitch will serve as channels for these ambassadors to share information about the 2023-24 season.
Nicolas Julia, CEO and co-founder of Sorare, highlights the importance of this partnership: "Sorare is entering its second year as an officially licensed fantasy sports product of the NBA and NBPA. We are excited about the innovations and features that Sorare's NBA players will experience in the 2023/2024 season. 
With the support of our partners and feedback from our users, Sorare is constantly striving to bring fans closer to the game and the players they love, and this year is no exception. From our interface to our gameplay, from our rewards to our marketing, Sorare is unlike any other fantasy sports platform.
Sorare NFT: innovative campaign with NBA stars
Sorare's campaign for the new season focuses on NBA stars including Donovan Mitchell, Jalen Brunson, Paolo Banchero and Mikal Bridges. The campaign consists of three separate segments called 'Fantasy Reimagined', 'Gameplay Reimagined' and 'Ownership Reimagined'. 
The spots will be seen on NBA TV and will begin airing on NBA League Pass, various NBA digital channels, Instagram, X (Twitter) and TikTok on 24 October.
Antoine Christian, creative director at Sorare, explains his creative vision:
"Our goal for the Sorare NBA Second Season creative campaign is to convey the journey of fans becoming Sorare managers. Each milestone or award brings our users closer to the players they admire, meticulously shaping every step of the way. 
We collaborated with truly passionate NBA talent to achieve an authentic tone deeply rooted in basketball culture. The interaction between fans and players is central to our narrative, emphasising the transformative nature of winning on Sorare NBA. As a product, and thanks to our creative team, Sorare NBA is redefining the essence of fantasy gaming."
Sorare continues its strong partnership with the NBA and NBPA to facilitate a closer connection between fans and their favourite players and teams. To commemorate the excitement of Opening Night on 24 October and throughout the 2023-24 season, Sorare will partner with leading NBA broadcasters for special events. 
These include private tournaments with Rob Perez (WorldWideWob) and Brycent (XSET Streamer) from 19 to 23 October, an eight-hour Opening Day livestream with comedian Mike Zakarian (Team Hold) and a live stream on 25 October on X Spaces with Rob Perez (WorldWideWob) to talk about the NBA and Sorare.
In addition, Sorare will run a series of social media giveaways in partnership with the NBA and NBPA throughout the 2023-2024 season. Users looking for instant engagement can now access a Sorare filter on TikTok.
Updated features and gameplay
Sorare's maps, gameplay and tournaments will undergo a major overhaul this season, with details to be announced before the season-long tournament begins in November and during the NBA All-Star Game.
Introduction of prize money for some tournaments, with specific announcements to be made in due course.
A new competition mode, Sorare Pro, with higher stakes in weekly tournaments.
Additional tournaments with special entry rules, including all-Guard lineups, Rookies, Veterans, and more.
Card designs are now available in AR and 3D, as well as Sorare Football.
This season sees the introduction of rewards for building core card collections, including very rare cards, season-specific cards and special edition cards.
As Sorare embarks on this exciting journey, managers are encouraged to stay tuned for more updates throughout the season and special events surrounding the NBA's in-season tournament and NBA Paris 2024.
Since its launch in 2018, Sorare has experienced exponential growth, partnering with some of the world's most respected leagues and teams, including the Premier League, MLB, MLS and the NBA. 
This journey has been marked by the involvement of iconic sports figures such as Lionel Messi, Serena Williams and Zinedine Zidane as investors, ambassadors and advisors.
Conclusion 
Sorare's partnership with the NBA has entered a new phase of innovation, 3D maps and unprecedented user engagement. 
With the start of the 2023-24 NBA season, Sorare offers an exciting bridge between fans and the players they admire. 
This evolution in the fantasy sports landscape is a testament to the synergy between sports and digital entertainment, redefining the essence of fantasy gaming.