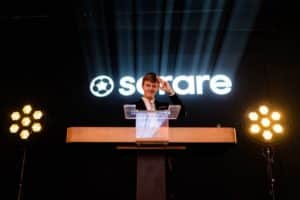 The CEO of Sorare, the French unicorn startup famous for fantasy sports NFT cards, has spoken about plans for the future, announcing the mobile app by the end of the year. 
Sorare NFT: plans for the future of the fantasy sports unicorn startup
According to reports, it appears that Sorare does not intend to stop, with the CEO and co-founder, Nicolas Julia, telling what the plans are for the future of the famous fantasy sports NFT card startup. 
And indeed, the upcoming launch of Sorare's mobile app by the end of the year appears on the list, which will give users the ability to buy and sell their NFT cards through mobile as well. 
Not only that, Julia also talked about an increase in real "experiences" as rewards, stating the following:
"we want to continue bridging the physical and digital worlds by offering experiences: for example, if you win a tournament you can fly to an away match with AC Milan, or play against Zidane's team."
Beyond these first two goals, in the more distant future, Julia also plans to increase the number of sports, stating that Hockey and tennis could be good candidates. In this way, the number of organizations and clubs, which, currently number 300 including Premier League, La Liga, Bundesliga, Serie A with 14 teams, MLS, NBA, should also increase. 
Sorare NFT and the rapid growth of the French unicorn startup
The French blockchain gaming startup can be called a real unicorn, given its rapid growth. 
And indeed, Sorare was founded in 2018, and the latest Series B funding round in July 2021 led by SoftBank's Vision Fund 2 was $680 million, bringing the company's value to $4.3 billion. 
Not only that, Sorare now boasts more than 5 million members, customers, and players while, among the sports investors are the likes of Leo Messi, Kylian Mbappé, and Serena Williams, who also sits on the board in an advisory capacity.
Specifically, Mbappé acquired a stake in Sorare in June 2022 as his first investment in the Web3 world, with his only NFT card being purchased for about 416,000 euros from a certain "Team Bamby." 
Seven-time Ballon d'Or winner Lionel Messi also joined Sorare last November, becoming its ambassador. 
Fantasy basketball on blockchain and collaboration with NBA and NBPA
As anticipated, Sorare now offers the game with its NFT cards not only for soccer, but also for basketball and baseball. 
It was September 2022 when fantasy basketball was also launched through a multi-year partnership with the National Basketball Association (NBA) and the National Basketball Players Association (NBPA). 
Since that time, the blockchain-based game also offers fans the chance to interact with the world of basketball and compete with other fans through a fantasy game experience involving NFTs. 
The partnership has allowed Sorare to be able to use the official logos of the league and NBA teams in its products.