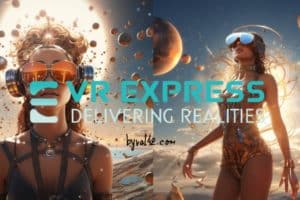 Founded in 2015, VR Express embarked on an innovative journey by establishing the first VR arcade in Bulgaria and the region. This pioneering step marked the beginning of a transformative era in how businesses leverage virtual reality (VR) and augmented reality (AR) to enhance their operations and brand presence.
Continuous Evolution and Customer-Centric Approach
Since its inception, VR Express has been dedicated to exploring various methods to augment business operations and client engagement. Central to their strategy is a customer-centric approach, where feedback drives the development of optimized XR (extended reality) and web offerings. These offerings, primarily focused on marketing and Huan Resoures domains, address key challenges such as user engagement, user education, and brand sustainability.
AR EXPRESS: A New Venture in Augmented Reality
Recognizing the growing significance of AR in the digital landscape, VR Express introduced AR EXPRESS in late 2022. This separate brand for augmented reality solutions represents a significant expansion of the company's capabilities, providing innovative AR solutions to businesses.
Flagship Product: VR Incorporator
VR Incorporator stands out as the flagship product of VR-Express, offering:
1. Onboarding: Transforming employee induction processes through immersive VR experiences.
2. Team Building: Facilitating team cohesion and collaboration using VR technologies.
3. Marketing: Employing VR to create engaging and educational marketing strategies.
Expanding Services Portfolio
In addition to VR Incorporator, VR-Express offers a variety of services:
1. VR Art: Combining artistic expression with virtual reality.
2. Interactive Web Visualizations: Enhancing digital presence with interactive and immersive web content.
3. vBrochure and vMails: Reimagining marketing tools with a VR twist.
Recognition and Collaboration
The company's commitment to innovation was recognized when its VR onboarding experience won the second place at the Employer Branding Awards 2023. This accolade not only underscores the effectiveness of VR in talent acquisition and training but also highlights VR Express's leadership in this domain.
VR Express extends its gratitude to Postbank (Eurobank Bulgaria AD) for their trust in Meta Inc, VR-Express's innovative product. The company also successfully collaborated with Vivacom, a leading telecom provider in Bulgaria, creating a branded V-BROCHURE to enhance their employee onboarding process.
Engaging with VR Express
VRExpress invites businesses to transform their print or digital media into engaging V-BROCHURES. Inquiries can be made at [email protected]. For more information, VRExpress can be reached through their websites:
– VR Express: https://www.vrexpress.io
– AR Express: https://www.arexpress.io
– Immersica: https://www.immersica.io
Additionally, VRExpress maintains a strong social media presence:
– Instagram: https://www.instagram.com/vrexpressbg
– Facebook: https://bg-bg.facebook.com/vrexpressbg
– LinkedIn: https://www.linkedin.com/company/vr-express/about
VRExpress continues to be a trailblazer in the VR and AR industry, offering innovative solutions that redefine business operations and marketing strategies. With its focus on customer feedback and continuous innovation, VRExpress is setting new benchmarks in immersive technology applications, steering businesses towards a more engaging and digitally advanced future.