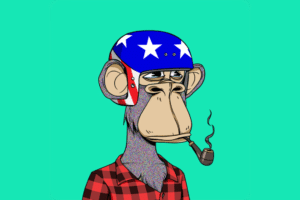 In this article we discuss a sad story in which the protagonist is a famous NFT trader, specifically of the famous Bored Ape (BAYC).
After falling victim to a $4 million scam, the unfortunate user was forced to put most of his Bored Ape up for sale to repay a debt incurred in DeFi. The estimated loss amounts to more than 2,000 ETH.
Let's see the details of this affair together.
An NFT trader puts much of his Bored Ape up for sale to repay a debt
A few days ago an NFT trader, known by the nickname "Franklin," lost about $4 million due to a scam.
The loss forced him to liquidate most of his NFT Bored Ape to deal with a debt he had previously incurred through a decentralized platform.
Franklin himself shared the news via a tweet in which he recounted that he had been the victim of a scam about which he does not prefer to speak publicly for privacy reasons.
In this scam project, the unfortunate user had invested more than 2,000 ETH.
I got rug pulled on an investment I put almost 2000 ETH into, thinking it was credible due to who else invested (not naming anyone for privacy reasons). Someone used our $$ as a casino gambling Ponzi and flushed it down the drain. Please learn any lessons possible from this.

— Franklin (@franklinisbored) April 13, 2023
Franklin then recounted that he had previously lost another 650 ETH or so through gambling on a decentralized platform called Rollbit.
Because of these two mishaps, he had to make the hard choice: to put up for sale most of his Bored Ape NFT assets he had collected during the past few years in order to be able to repay a debt on BendDao.
The latter is a Web3 data liquidity platform that allows people to borrow ETH by depositing NFTs as collateral.
When you apply for a loan in DeFi, as in this case, you agree to pay an interest rate that is accrued daily in proportion to the requested capital.
Most likely the rising loan fees and the inability to repay the debt with only the cash he had left in his portfolio forced Franklin to put his prestigious collection of NFTs up for sale.
The severe blow he suffered, both financially and psychologically, convinced him to withdraw momentarily from the NFT business.
The news came as a shock to the BAYC community, as Franklin was one of the main holders of the Bored Ape and a major supporter of the project.
As if that were not enough, a few days later, another well-known Bored Ape holder liquidated his NFT investments to the tune of several hundred thousand dollars
Jimmy.eth, one of the OGs of BAYC and a big contributor to their growth early on, just left hundreds of thousands of dollars on the table selling off some grails to bids

Confirmed not a hack too… pic.twitter.com/23mBbqiocR

— Cirrus (@CirrusNFT) April 15, 2023
How many Bored Ape NFTs were sold by Franklin?
The NFTs belonging to the "Bored Ape Yacht Club" collection that were sold by Franklin between 13 and 14 April amounted to 34 unique Bored Ape specimens.
All NFTs were sold individually at a figure ranging from 51.8 to 59.59 ETH.
The piece liquidated at the highest figure was Bored Ape 5876, which was sold at this address for $126,000.
Currently the floor price of the collection is 53.74 ETH. Over the past 7 days there has been a decrease in the BAYC floor price of 8.82% with trading volumes of 20,914 ETH.
In total Franklin managed to accumulate about 1872 ETH from the sale of these Non-fungible tokens, not enough to repay the entirety of the debt but certainly helping to put a patch over this tragedy.
The community was stunned to find out that all these NFTs were sold in such a short period of time, especially considering that the triggers for this stream of sales were an alleged scam and a gambling problem from which Franklin was suffering.
On Rollbit, a crypto casino where he himself admits to losing about 650 ETH, it is possible to observe that since the beginning of the year he had deposited more than 6,000 ETH equivalent to $12.7 million.
A story that serves as a lesson for the community
Unfortunately, even those who appear to be industry experts with multimillion-dollar portfolios can be wrong.
Franklin made a double mistake: first by falling victim to a scam, about which little or nothing is yet known, and second by succumbing to gambling by throwing away another 650ETH.
Ludopathy is a serious problem for many people around the world: consider that in Italy alone more than 1 million people suffer from it.
In the context of decentralized finance platforms, the number of protocols that allow users to wildly gamble their cryptocurrencies has been increasing tremendously in recent years.
The crypto community will have to deal with this, given and considering that a great many users who think they are expert cryptocurrency traders open positions in the markets without knowing what they are doing and punctually lose more than they could afford to bet.
It is essential to have good notions of "risk management" before making any kind of trade, whether it is a simple swap, or opening a position on a perpetual futures market, or worse yet taking on debt partially collateralized by volatile assets. It is necessary to do research before engaging in such complex activities.
Let's hope that "poor" Franklin has learned his lesson, although this is not the first time he has made mistakes of such proportions: in July 2022 he had set "for fun" an offer of 100 ETH on an "ENS Domains" NFT, but unfortunately he did not have time to remove the offer and it was immediately accepted by the counterparty.
Both stories with a tragic, and at the same time comical, character present a key insight that should not be underestimated: what if it was an attempt to launder money through the sale of NFTs?
Perhaps we will explore this sensitive issue in more detail in another article.