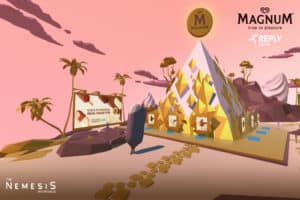 The virtual entertainment platform The Nemesis metaverse presents its latest creation, that is the result of the fruitful collaboration with the creative agency Xister Reply: Magnum Pleasureland. 
This new virtual space conceived by Xister Reply for the famous world-leading ice cream Brand Magnum, was inaugurated on April 13th and aims to celebrate the exciting 2023 season.
The new Magnum Pleasureland reality in The Nemesis metaverse
Thanks to the high-quality technology and ease of use offered by the platform (access with a simple link via desktop browser or iOS/Android mobile app), users can freely explore the main area of Magnum Pleasureland and enjoy an exclusive and surprising world made of chocolate mountains and caramel waterfalls, where virtual pleasure meets the real world.
Within this Metaverse, users can interact with the Magnum Pleasure Store corners, where they can discover all the details and directly purchase Magnum products via Glovo. In addition, they can also test their knowledge with a Trivia Quiz featuring questions related to the iconic ice cream Brand.
But that's not all: while exploring this Metaverse users will also find two coming-soon areas dedicated to the Nocciola Remix references and the new Sunlover & Starchaser, which will be unlocked in the coming weeks. These new areas will also be enriched by engaging activities, such as game challenges and special features allowing users to experience the Metaverse to the fullest.
To discover Magnum Pleasureland, simply visit this website and immerse yourself in a world of pleasure!
Once again, The Nemesis is a point of reference for international brands and influencers who choose the platform to increase the community engagement through fun gameplays, challenges and live events set in new and surprising metaverses.
Magnum Pleasureland is just the latest creation of the platform, that continues to innovate and offer high-quality and engaging virtual reality experiences, to the extent of gaining the second position in the Top 100 Web3 Virtual Worlds ranking by Metaversed.