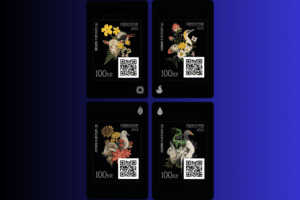 The Nordic countries are getting their first collectible stamps, the Stamps of Maybe, a project launched by Posta Faroe in collaboration with NFT artist Heiðrik á Heygum. 
NFT artist Heiðrik á Heygum and the Stamps of Maybe project
The first collectible stamps with NFT artist Heiðrik á Heygum have arrived in the Faroe Islands in the Nordic countries. 
Specifically, the new project called Stamps of Maybe was launched by the Faroe Post and features a limited collection with 7,500 issues of each of the four stamps with distinctive designs. 
Each design represents a season and its associated element, showing their harmonious interaction with the mesmerizing climate of the Faroe Islands. These stamps celebrate the inspiring beauty of nature and the captivating spirit of the Faroe Islands.
Artist Heiðrik á Heygum then proceeded to create the first Spring, Summer, Fall and Winter NFT stamps, which sold out within just two hours of their sale on the dedicated website. 
Stamps of Maybe: how does this artist's NFT stamp project work
The Stamps of Maybe NFTs involve a physical stamp and its own digital twin that is stored on the blockchain, and which can be used for postage.
This is a collection that marks the first integration of real-time weather data from the Faroe Islands with NFT stamps using blockchain technology. 
In fact, each digital stamp captures a unique moment in time when activated, blending with the ever-changing weather of the picturesque Faroe Islands. 
This innovative feature not only adds a gaming element for collectors, but also explores the full potential of blockchain, increasing the rarity of each stamp.
In this regard, NFT artist Heiðrik á Heygum wanted to offer his unique vision of the four seasons in the Faroe Islands through the Stamp of Maybe project. And he did so with four beautiful collages of images or bouquets, as we can call them, representing the seasons of the year.
Each bouquet contains flowers, various other plants, birds and animals. The Faroese have always been very attached to nature and its resources, as these images show.
Switzerland's Crypto Stamps 3.0
A similar project to the current one in the Faroe Islands had been launched by the Swiss Post with their third Crypto Stamp 3.0, in the physical and NFT version. 
Indeed, last April, the Swiss Post launched the project, which also involves Artificial Intelligence (AI). How? Precisely with the designs of the stamps.
Essentially, visitors to Swiss Digital Days 2022 had been given the opportunity to design the new stamps of this third edition of Crypto Stamp 3.0 through a terminal.
Specifically, participants at the event selected terms from which a trained AI system then produced images and created the present designs for this series. 
The NFT artist in this case was the AI system based on input received from crypto-art enthusiasts.