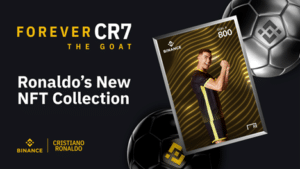 Binance, one of the world's leading cryptocurrency exchanges, has partnered again with legendary soccer player Cristiano Ronaldo to launch its second NFT collection entitled ForeverCR7: The GOAT. 
The collection, which pays tribute to Ronaldo's incredible career as one of the greatest soccer players of all time, will be available for purchase starting Monday 3 July, exclusively on Binance. 
CR7's NFT collection by Binance
With an impressive record of 838 career goals, the Ronaldo ForeverCR7: The GOAT NFTs offer fans the unique opportunity to own digital representations of his most iconic goals and unforgettable moments on the soccer field. 
The collection includes more than 29,000 NFTs, each encompassing a piece of Ronaldo's legacy. 
In addition, the NFTs come with exclusive prizes and benefits for the lucky owners.
Yi He, co-founder and Chief Marketing Officer of Binance, expressed the significance of this collaboration, saying: 
"The first launch represented an NFT collection in collaboration with the most successful athlete of all time. With this second collection, we wanted to continue creating value for our community. These new CR7 NFTs, created by Binance, are not only an extraordinary work of art celebrating 'the greatest of all time,' but also show a real-world application of how Web 3.0 is revolutionizing the sports and entertainment industries."
Cristiano Ronaldo himself expressed his enthusiasm for the project, especially for his most loyal fans.
Cristiano Ronaldo stated: 
"It is great to have the opportunity to collaborate again with Binance on this project, especially for those who have supported me since my early achievements. Creating this collection and reflecting on the highlights of my career has been a very rewarding experience. I can't wait to see the response of fans to the drop and to have the chance to train with some lucky people."
Details and benefits about the upcoming collection
The ForeverCR7: The GOAT collection will be released on 3 July at 4 PM and features artwork representing 20 of Ronaldo's most memorable goals. 
The NFTs are classified into four levels of rarity: Super Super Rare (SSR), Super Rare (SR), Rare (R) and Normal (N).
The most valuable NFTs are those in the Super Super Rare (SSR) category, with seven available in total. Six of these NFTs will be auctioned on Binance's NFT marketplace, with the remainder to be awarded at a later date. 
The auction will last 48 hours and the NFTs will go to the highest bidders, starting with an auction price of $15,000. 
These exclusive NFTs not only guarantee ownership of an important piece of Ronaldo's career, but also include a training session with the soccer icon himself and tickets to the upcoming Binance Blockchain Week.
For those interested in Super Rare (SR) and Rare (R) NFTs, 120 SR and 1,200 R NFTs will be available for sale on Binance's NFT marketplace through a subscription mechanism. Prices for Super Rare start at $200, while Rare NFTs can be purchased for as low as $30.
The remaining 28,000 NFTs fall into the Normal (N) category and will be available exclusively through the ForeverCR7 Box at a price of $10.
Each rarity level of NFTs in ForeverCR7: The GOAT comes with a number of exclusive benefits. 
These include a personal message and video of Cristiano Ronaldo describing each goal represented, autographed and printable Binance x CR7 posters, autographed Binance x CR7 merchandise, guaranteed access to all future CR7 NFT drops, and access to signed merchandise giveaways and prizes.
In addition, fans who purchased CR7 NFTs from the inaugural 2022 collection will not only have access to this second set, but will also receive a free NFT Mystery Box from the first release, as well as ForeverCR7 boxes and high rarity NFTs from the second release.
Conclusions
In conclusion, the collaboration between Binance and Cristiano Ronaldo for the ForeverCR7: The GOAT NFT collection marks a milestone in the world of sports and blockchain technology. 
This second NFT collection celebrates Ronaldo's extraordinary career as the greatest soccer player of all time, allowing fans to own digital representations of his most iconic goals and moments.
The release of this collection demonstrates the transformative power of Web 3.0 and how NFTs are revolutionizing the sports and entertainment industries. 
Thanks to blockchain technology, fans can now engage with their favorite athletes and own a piece of sports history in a whole new digital format.
As NFTs continue to gain popularity and recognition, this collaboration demonstrates the growing intersection of art, sports, and blockchain. It opens up new possibilities for athletes, artists, and fans to connect, creating a unique and engaging experience that goes beyond traditional memorabilia.
As the world embraces the digital age and explores new ways to celebrate and commemorate iconic moments, NFTs are paving the way for a more inclusive and accessible future.
The collaboration between Binance and Cristiano Ronaldo is a testament to the transformative power of technology and its ability to bring fans closer to their idols.
Mark your calendar for 3 July and get ready to join the celebration of "The GOAT" with Cristiano Ronaldo's ForeverCR7 NFT collection. 
This is a once-in-a-lifetime opportunity to own a piece of soccer history and be part of the digital revolution that is reshaping the way we experience sports and entertainment.