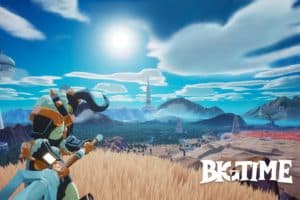 The decentralized adventure game Big Time, whose ecosystem revolves around blockchain, crypto and NFT, has gone viral in recent days.
The game, powered by web3 provider "Openloot", launched its "pre-season" on October 10th and immediately enjoyed great success among its community thanks to the possibility to earn crypto coins within the game.
In fact, anyone can obtain crypto $BIGTIME, the platform's internal erc-20 token, by participating in various challenges and activities.
It is also possible to sell various non-fungible tokens received as rewards on secondary markets.
In any case, the hype for the game may be exaggerated, considering and taking into account an extremely negative aspect present in BIGTIME tokenomics.
Let's look at all the details below.
What is the BigTime game and how does it use the blockchain environment and NFTs?
Big Time is a free-to-play action-adventure role-playing game, similar to "World of Warcraft" and "Runescape", but partially based on blockchain and using crypto and NFTs at its core.
The platform is powered by "Openloot", a provider of decentralized solutions for launching web3 games, offering dedicated marketplaces and NFT management platforms, as well as a range of support services such as fraud prevention, customer service, advanced analytics, credit card payment option, etc.
The plot of Big Time deals with a world that is now on the verge of extinction, where various factions and dark forces are emerging and fighting each other, in a context where the space-time factor seems to no longer exist.
At the end of the universe lies a mysterious city where the greatest minds in history are gathered: in this place, warriors will engage in a final battle that will determine the fate of the world.
In a short time since its launch, the game has reached such important figures as the sale of more than 100,000 NFTs for a total volume of more than $100 million and a pre-registered user base of 1 million.
The current success of Big Time, in addition to the compelling story behind it and the professionalism with which the game has been built, is mainly due to the possibility for users to monetize their time spent on the platform.
In fact, all players can earn multiple NFTs and receive $BIGTIME tokens (in-game crypto) during their adventure, subject to the purchase of a pass on OpenSea, which currently costs a few tens of dollars.
Non-fungible tokens can be sold on secondary markets to other users, while the $BIGTIME crypto can be spent on in-game upgrades or sold for stablecoins.
Several DAOs or blockchain-based game foundations have shown such interest and support for Big Time and its ecosystem that they have invested heavily in it. Yield Guild bought $500,000 worth of time machines (NFTs), Merit Circle bought $1 million worth of virtual land, and Avocado funded the platform with $500,000.
In order to play the game for free and try to save humanity from extinction, it is necessary to obtain an initial access code, which can be obtained by joining the project's official Discord, where they are occasionally dropped on the community, or by watching other players' Twitch live streams.
Analysis of the $BIGTIME crypto: a wake-up call for tokenomics
The hype around the free-to-play game, which offers monetization opportunities via NFT within its ecosystem, recently spilled over to the $BIGTIME crypto, which was launched 6 days ago on decentralized exchange markets.
The cryptocurrency, which belongs to the Ethereum blockchain, opened the dances with a spike of 650% amplitude in the first hours of trading and saw a significant increase in trading volumes in the following hours.
In a short time, BIGTIME has reached a circulating capitalization of $40 million, with around 3,400 holders betting on a rise in the cryptocurrency.
It is currently priced at $0.246 per token, but its price action could be subject to strong volatility in the coming days, both up and down.
The coin is currently listed on DEX as Uniswap as well as exchanges such as Coinbase exchange, Kucoin, Okx and Bitget.
At first glance, the structure that BIGTIME has created on the chart against the dollar seems to indicate a bullish continuation, with the bulls in control of the situation.
In any case, it is good to remember that we are dealing with a shitcoin that is tradable in only a few markets and with little liquidity to support it: it takes very little to change the fortunes of a currency that seemed ready to explode.
Moreover, if we look at the tokenomics of the project, we can easily see that there is an extremely negative factor for crypto: BIGTIME has a huge inflation that should technically quadruple the number of tokens in circulation within 3 years.
Of the 5 billion maximum supply, there are currently only 158 million coins, or about 3 percent of the total.
So for now, the scarcity of these tokens in the markets, combined with the current fomo there is for NFT and blockchain-based gaming, has led to BIGTIME's success.
In the future, as new digital tokens are issued within the decentralized ecosystem, the price of crypto could easily experience a sharp depreciation.
On the other hand, as in any self-respecting play-to-earn game, the inflation factor must necessarily be present in a large way as the fulcrum from which users can be rewarded for spending time on the platforms in question.
It is crucial to understand this limitation of games like Big Time and to be aware of the risks of holding such a token.
In fact, to avoid the abyss, it is necessary for the platform in question to achieve incredible success, with a steady flow of new users (and buyers) in the first few years after launch, and a continuous buyback of tokens to stimulate demand.
Unfortunately, NO play-to-earn project token has yet been able to overcome this supply-related "problem", except temporarily and in the midst of a bull market. 
The fate of BIGTIME crypto also seems to be destined for a price collapse.