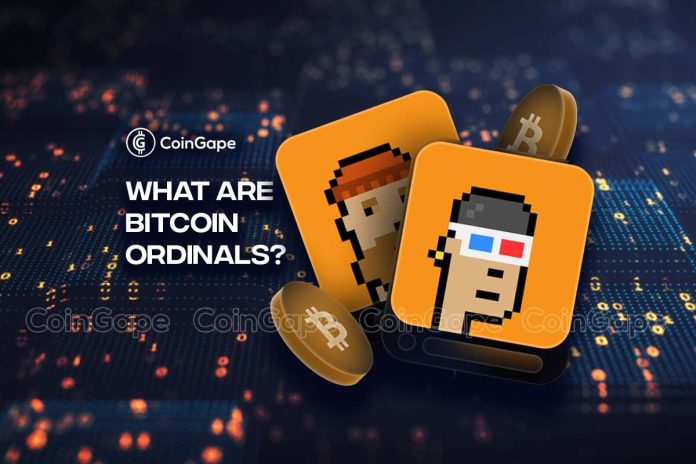 Crypto exchange OKX is bringing Bitcoin ordinals to the OKX Wallet and the OKX NFT Marketplace, becoming the first multi-chain platform to enable the viewing and transferring of Bitcoin ordinals. The Bitcoin NFTs or Bitcoin ordinals are digital assets inscribed on Satoshi, the lowest denomination of a Bitcoin.
Bitcoin ordinals took the crypto world by storm, reviving the NFT market and Bitcoin miners from the financial crunch in the bear market. Bitcoin Ordinals was launched this year as a result of the 2021 Bitcoin protocol upgrade "Taproot" to allow a unique digital signature on Bitcoin.
OKX Introduces Bitcoin Ordinals on the Platforms
The second-largest crypto exchange by trading volume OKX has upgraded its OKX Wallet and NFT Marketplace, enabling users to view and transfer Bitcoin (BTC) ordinals on the platforms.
With the Bitcoin ordinals integration, OKX became the first multi-chain platform to support this capability. OKX Wallet now currently supports BTC taproot addresses on the browser extension, with mobile version coming soon. Customers can import their BTC wallets and view their Bitcoin ordinals through a single wallet, in contrast to managing separately via a Bitcoin-only wallet.
"We had to move fast to welcome the ordinals community and give them an easy way to store, manage, and soon mint ordinals within our wallet services. I hope this integration helps bring more people in to play with this new utility and discover new possibilities on top of Bitcoin," said OKX chief marketing officer Haider Rafique.
The development follows the Bitcoin Punks NFTs launch on OKX NFT Marketplace last month. OKX enabled users to buy ordinals with ETH.
Interstingly, the OKX NFT Marketplace will soon allow its users to mint and trade Ordinals on its platform. It will enable users to create, buy, and sell Ordinals cheaply and more easily.
Also Read: Binance CEO "CZ" Reacts To Bloomberg's Data On His Wealth and FTX
OKX President and OKCoin CEO Hong Fang took to Twitter to share the exciting developments. She revealed that OKX is bringing many Ordinals features to the OKX Wallet. Hong Fang also said, "12 years ago today, Satoshi Nakamoto sent their last message."
12 years ago today, Satoshi Nakamoto sent their last message

Earlier this year, Bitcoin Ordinals was launched thanks to a 2021 upgrade to the Bitcoin protocol named Taproot to allow unique digital signature on Bitcoin

We've been working on bringing Ordinals to #OKXWallet…

— Hong (@hfangca) April 27, 2023
The post Breaking: OKX Brings "Bitcoin Ordinals" To Its Wallet and NFT Marketplace appeared first on CoinGape.