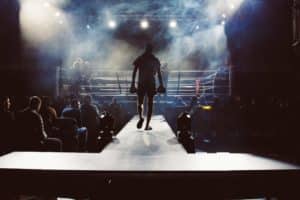 A new strategic mixed martial arts (MMA) fighting game using NFT and developed by One Championship and Animoca Brands is planned for 2024. Below are all the details about it. 
Mixed martial arts (MMA) joins NFT for the first time. 
As anticipated, Notre Game, an Animoca Brands company, is making a strategic mixed martial arts (MMA) fighting game for mobile devices with NFTs together with Singapore's MMA brand One Championship. 
The launch of the game named 'One Fight Arena' is currently scheduled for early 2024, with initial player testing to begin by the end of the year. 
Specifically, athletes in the game will become NFTs to provide owners with verifiable authenticity and statistics on the rarity of their character. 
One Fight Arena will also be released as a free-to-play mobile game for those who wish to play the game totally free with no token elements in the mix. 
In addition, the game will include the brand's roster of different fighters and focus on "strategic gameplay" through a first-person point of view, according to the announcement.
Finally, One Fight Arena aims to simulate each fighter's experience, starting from the beginning of their respective fighting careers. 
Statements regarding the new MMA game featuring NFT
Although not much else has been revealed about the One game, One Championship co-founder and group president Hua Fung Teh believes it is a way to offer MMA fans a completely innovative and immersive new experience.
Specifically, in a note, Teh stated the following: 
"We are thrilled to work with an industry leader in Animoca Brands to launch One Fight Arena, our first Web3-optimized video game. This partnership will give us the opportunity to engage with our global fan base on a deeper level."
On the other hand, Animoca Brands executive president Yat Siu also shared a similar stance on why the game was developed with Web3 elements, as it reads: 
"Our partnership with One to create One Fight Arena will allow fans of the world's largest martial arts organization to access a new gaming experience with a true digital property at its core."
In addition, it is important to note that Animoca and One's game comes as Asia is increasingly a favored market and producer for Web3 games. 
Not coincidentally, a DappRadar report last month said Asia could eventually dominate 80% of the entire Web3 game market, a sentiment that other industry players have picked up on in recent months.
DappRadar's report on Asia and the Web3 market
As anticipated, players in Asia are expected to make up the vast majority of the Web3 games market, according to a DappRadar study conducted in collaboration with Japanese cryptocurrency company Pacific Meta.
Specifically, the study found that Asia already has 55% of the global gaming population with 1.7 billion players and will likely make up 80% of all Web3 players. The figure is remarkable, especially considering the fact that, for example, in China, gamers under the age of 18 can only play games for one hour a day. 
And in South Korea, blockchain games have been heavily scrutinized and virtually banned altogether. 
However, despite the legal restrictions, the above report claims that video game publisher Nexon's Web3 game with MapleStory Universe and Square Enix's upcoming Web3 game, Symbiogenesis, are two examples that suggest how crypto games are gaining ground in the East. 
In addition, both will also use Polygon, which the study says is currently the preferred network for Web3 games from a game studio's perspective. 
The study by DappRadar and Pacific Meta also concluded that the Asian market prefers more the genre of role-playing games such as Final Fantasy, Phantasy Star Online or Genshin Impact. 
Hence, the Asian market's interest in Web3 games is considerable. In fact, at the Game Developer's Conference (GDC) in San Francisco held last month, Korean game publisher WeMade had one of the largest booths. 
In addition, an on-site representative told Decrypt that WeMade plans to release its games in Korea without Web3 elements, then release them globally at a later date with NFTs and Web3 integrations through its WeMix platform.