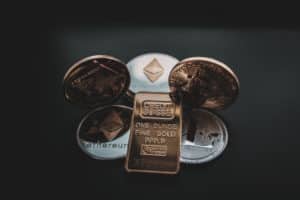 The Q1 2023 Crypto Industry Report compiled by CoinGecko's Labs was released today. 
The report states that, as everyone had already widely noted, during this new year the cryptocurrency market woke up from its hibernation at the end of 2022. 
It is enough to mention that on 1 January 2023 the total capitalization of the crypto market was only $831.8 billion, while as of 31 March it had already risen to $1,238 billion. 
Despite this, it has not been a smooth, linear path, but it still managed to undo all the losses from the FTX collapse last November. 
Indeed, the market has returned to the levels before the Ethereum Merge, with Bitcoin performing particularly well, gaining nearly 72% this quarter.
The rise of the crypto market investigated by the CoinGecko Labs report
The whole crypto market has benefited from this upward trend, with an overall increase of 48.9% that has lifted it back above the $1.2 trillion mark 
Average daily trading volume also increased by 30% on a quarterly basis, whereas it had contracted by 33% in the fourth quarter of 2022. 
From this point of view in particular, the recovery took place immediately, in January 2023, that is, as soon as the market started to rise. It then rose again at the beginning of March, and then faded somewhat at the end of the quarter. 
In such a scenario, it is not surprising that Bitcoin outperformed traditional asset classes, with a gain of 72.4%. For example, the Nasdaq stood at +15.7% over the same period, while gold posted an otherwise good +8.4%. 
To be fair, the quarter was closed on a positive note by almost all major asset classes except oil, which fell -6.1%. However, it is worth mentioning that oil was one of the only two assets that closed 2022 with a growth. 
In addition, the Dollar Index (DXY) remained essentially flat in the first quarter of 2023, while inflation data turned out to be cooler than expected.
It is worth noting that the spot trading volume of cryptocurrencies increased by 18.1%, with the percentage growth of DEX outpacing that of CEX: +33.4 %, versus +16.9 %. Overall, however, CEXs still capture about 90% of global trading volumes. 
However, despite the recovery, monthly volumes have not yet recovered to the levels they averaged in the first half of 2022.
Blur outperforms OpenSea: crypto report analysis by CoinGecko Labs
Another resounding development was the overtaking of Blur over OpenSea as the leading NFT marketplace.  
NFT trading volume overall increased significantly in the quarter (+68%) from $2.1 billion in the last quarter of 2022 to $4.5 billion. 
But most of this volume came from Blur, a new NFT platform launched only in October last year. In just six months, it has surpassed the industry leader, OpenSea, rising from a 52.8% market share in December 2022 to a 71.8% market share in March 2023. OpenSea's market share dropped from 29.3% to 21.7%. 
Solana bucked the trend, because while most of the other chains experienced an increase in NFT trading volume in the first quarter of 2023, it declined on Solana. 
For example, the largest marketplace on Solana, Magic Eden, saw its trading volume decline from $73.9 million in December 2022 to only $23.6 million in March 2023, a decline of 67.9%. 
On the other hand, the impressive growth of Ethereum's Layer 2, and in particular Polygon, makes it less necessary to turn to cheaper blockchains than Ethereum. 
The loss of stablecoins
Instead, it was stablecoins that lost market capitalization in the first quarter of 2023. 
In total, the loss was $6.2 billion, or 4.5%, concentrated mainly on USDC and BUSD.  
By contrast, USDT went in the opposite direction, with +$13.6 billion constituting an increase of 20.5%. USDC, on the other hand, lost 26.9% of its market capitalization, and BUSD as much as 54.5%.
In addition to USDT, another gainer was True USD (TUSD), which entered the top 5 stablecoins, surpassing FRAX. Its market capitalization in the quarter increased by 169.3%. 
DeFi also grows 
The decentralized finance market also made a nice rebound after the negative peaks in late 2022. 
The increase in the total market capitalization of DeFi tokens was $29.6 billion (+65.2%), supported in particular by liquid staking, which grew by as much as 210.9%. 
This has meant that liquid staking has now become the third most valuable asset in DeFi, surpassing even lending protocols. 
Despite this, DEX governance tokens continued to lose market share during the quarter, posting an overall loss of -5%.