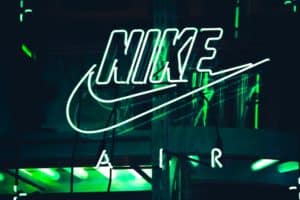 Nike, the global sportswear brand, is about to launch its first NFT sneaker collection called Our Force 1 (OF1) on its .Swoosh platform.
Nike and the release of the first NFT collection of virtual sneakers
The famous sports brand, Nike, will soon release its first virtual sneaker collection using NFT technology. This was announced by its recently launched marketplace, .Swoosh, the place where the release will take place.
Old sole, new story.

The #OurForce1 collection features digital renditions of AF1s past, present and future built for the next generation.

Nike's first-ever virtual collection is inspired by the AF1 Low, a classic style remixed hundreds of times since it dropped in '82. pic.twitter.com/dlq65VNeAb

— .SWOOSH (@dotSWOOSH) April 17, 2023
Basically, Nike's new signature collection is called Our Force 1 (OF1) and is a pun inspired by the brand's iconic Air Force 1 born in 1982.
Starting today, 18 April, Nike will begin releasing "posters" to selected users on .Swoosh, granting them early access to the sale scheduled for 8 May.
While for the general public, Nike's new NFT sneakers will be available for purchase from 10 May on its marketplace.
The first Nike NFTs: the Our Force 1 (OF1)
In a roundup of tweets, .Swoosh explained how Nike's first virtual creation offering will work.
Basically, the OF1 collection features familiar models, some cult classics, and even some .Swoosh originals. In addition, each AF1 in the collection comes in one of two OF1 Boxes, which are the "Classic Remix" and "New Wave." 
Specifically, the Classic Remix Box is a portal to AF1 nostalgia, celebrating the sneaker's historic details. The New Wave Box, on the other hand, is something new, a gateway to a never-before-seen AF1 universe.
Not only that, each box is priced at $19.82, in homage to the year the Air Force 1 sneaker was first launched.
According to reports, Ron Faris, general manager of Nike Virtual Studios, said:
"We are exploring new ways to tell stories and create relationships while removing the barriers and limitations of physical product."
Dot Swoosh (.Swoosh): the apparel brand's NFT marketplace
Nike released Dot Swoosh (or .Swoosh), its platform dedicated to buying, displaying, and trading NFT and digital and virtual products, last November.
The platform was created with the aim of becoming the home of Nike's virtual creations. Not only that, the company added that items purchased on .Swoosh can be worn in video games and other immersive experiences.
In this way, Nike will be able to continue its leading position not only in sportswear but also in Web3.
Prior to November, Nike had also already purchased the ENS domain "dotswoosh.eth" for 19.72 ETH (about $38,000 at that time), precisely to dedicate to its project.