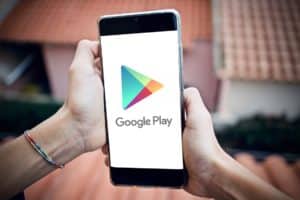 Google Play is revolutionizing its crypto policies on tokenized digital assets by introducing NFT into apps and games. 
The company is offering developers the ability to allow users to buy, sell or earn digital assets within apps, as long as they maintain transparency and adhere to other established rules. 
See below for all the details. 
Crypto news: Google Play opens its doors to NFTs
As anticipated, Google Play recently announced a significant change in its "crypto" policy, allowing developers to integrate digital assets as non-fungible tokens (NFTs) into their apps and games featured in the store. 
Companies that choose to offer the ability to buy, sell or earn tokenized assets will have to clearly communicate in the Play Console that the app contains blockchain-based elements.
In a blog post, Joseph Mills, Group Product Manager at Google Play, wrote: 
"this change will allow partners to reinvent traditional games with user-owned content" and increase "user loyalty through unique NFT rewards." 
Partners who have worked with Google on this new policy include Reddit, which has achieved tremendous success with its Avatar NFTs. 
Matt Williamson, senior engineering manager at Reddit, was quoted in the post saying that the updated guidelines aim to create a level playing field that promotes user trust and responsible use of blockchain technology.
In his post, Mills stressed the importance of user trust, stating that although tokenized assets are intended to create more engaging and enriching experiences, developers cannot promote or emphasize any gains from gaming or trading activities. 
It is worth noting that Google Play's rules on remote gaming, games, and real-money contests still remain in place. 
In fact, this means that apps that do not meet the gambling requirements cannot promote the purchase of an in-game item such as a "loot box" for a chance to win an NFT.
A strange past policy: the removal of blockchain apps from the Play Store
In the past, Google's policy regarding blockchain-based apps has been considered a "black box," with games such as "Bitcoin Blast" being removed from the Play Store in 2021 without a clear explanation. 
In 2018, the store also banned crypto mining apps, a rule that will remain unchanged under the new guidelines.
However, recently, the company has signaled a change in its attitude toward Web3. 
For example, it allowed ArDrive Mobile, a decentralized data storage app, to be in the store in 2022 and allowed Axie Infinity: Origins to be listed in certain Google Play markets. 
In parallel, Google Cloud announced an initiative in April 2023 to help Web3 developers accelerate their startups.
A Google Play spokesperson told CoinDesk that users could see the first tests of the new experiences later this summer as they work with an initial group of developers. 
In any case, the new policy will be fully implemented by the end of the year.
Google Cloud accelerates Web3 startups 
As anticipated, Google Cloud recently expanded its Google for Startups Cloud Program to offer support to Web3 builders, enabling them to create their projects quickly and securely. 
In recent years, Google, a Web2 powerhouse, has increasingly ventured into the Web3 world, helping developers leverage their technical expertise to create innovative projects. 
This year, the Celo Foundation announced a partnership with Google Cloud to offer workshops and cloud computing services to developers and founders of Celo-based Web3 projects.
Last year, BNB Chain, a blockchain closely linked to the cryptocurrency exchange Binance, said it was joining Google Cloud to support the growth of early-stage Web3 and blockchain startups.
In any case, benefits of the program include early access to Google Cloud's Web3 products and training on the latest cloud-based technologies, according to the press release. 
The program will allow projects to access funding from various partners, including a potential investment of up to $3 million from the Polygon Ventures Ecosystem Fund. 
In addition, eligible projects could receive grants of $1 million each from Google Cloud foundation partners, including Aptos, Celo, Flow, HBAR Foundation, and the Near and Solana foundations.