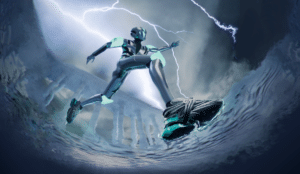 The new NFT fashion show with Augmented Reality (AR) by Balmain and Space Runners, debuted during Metaverse Fashion Week in Milan's Piazza Duomo.
The Metaverse Fashion Week and the AR fashion show by Balmain and Space Runners
A revolutionary new experience harnessing the power of the metaverse was presented during Metaverse Fashion Week in Milan's Piazza Duomo.
The two protagonists behind the NFT Augmented Reality (AR) fashion show were the innovative digital fashion platform Space Runners and the iconic French fashion house Balmain.
Basically, this new collaboration created an unprecedented immersive experience that could be experienced with a smartphone from Terrazza Duomo 21, overlooking the famous Piazza Duomo in Milan, Italy's iconic fashion city.
On 31 March, Balmain together with Space Runner created a dynamic experience that transcends traditional fashion by intersecting with digital. A real NFT presentation in AR with collections of timeless and metaverse-ready models.
The @Balmain x Space Runners Limited Unicorn Collection is sold out!
The sale is officially closed. Thank you for all the love!

Stay tuned for news regarding your NFT pic.twitter.com/QbjTKQ5xD8

— Space Runners (@SpaceRunnersNFT) March 28, 2023
The Balmain x Space Runners Unicorn Collection, consisting of only 130 pairs available worldwide, sold out on 28 March, just before the big show in Italy's fashion capital. The price of each Unicorn bundle ranged between $1595 and $2095 and could be paid in ETH or by credit/debit card.
Metaverse Fashion Week and the NFT AR collection as the future of fashion.
The new collection featured wearable digital unicorn models inspired by a mix of myths, the energizing waves of youth culture, and the powerful forces of the metaverse
The goal of Balmain and Space Runner for this Metaverse Fashion Week was to experiment with new ways to engage users, especially those approaching the Web3 for the first time.
Fashion and cryptocurrency fans were able to purchase Unicorn sneakers paired with their digital items from Balmain's website, available in a variety of modern and classic designs, styles, and colors.
Not only that, the wearable NFTs in the collection offer their owners a number of other interesting benefits. These include early access to future Balmain collections, digital wearables for gaming and metaverse, and exclusive physical accessories, and much more.
The second edition of Metaforum in Milan
Italy's fashion capital, Milan, will soon feature another event: the second edition of Metaforum, focused on metaverse, NFTs and DeFi.
And indeed, the event organized by Finlantern in collaboration with The Cryptonomist as a strategic partner on 7 June, will give space to the entire crypto sector.
Among the speakers, there will be David Princay of Binance, Giacomo Zucco, Marco Ruffa of Pinko, Andrea Concas of ArtRights, Jonathan Perkins of SuperRare, lawyer Luciano Quarta and many others.
The event will last an entire day and will be held at the Palazzo delle Stelline in Milan. In addition to NFTs, metaverse and DeFi, there will also be a special room to try out industry games and applications, in collaboration with Noku and Bultiverse.