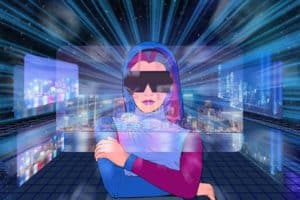 Technology intelligence firm ABI Research has made some forecasts about the metaverse, saying that by 2030 some 700 cities will have implemented some form of metavertical infrastructure.
Metaverse and ABI Research's predictions: by 2030 it will be deployed in 700 cities
According to reports, it appears that the company ABI Research has released its forecasts regarding the metaverse, stating its deployment in about 700 cities by 2030. 
Specifically, the technology intelligence firm predicts that these 700 cities will have deployed some form of metaverse infrastructure, which could be extensions of existing urban digital twins.
In this regard, Dominique Bonte, Vice President, Verticals & End Markets at ABI Research said:
"Though the metaverse is undeniably overhyped and steeped in vagueness, the urban context offers interesting value-generating use cases and applications, ranging from seamless interaction of citizens with e-government services, virtual tourism, smart infrastructure design, planning and development, and urban workforce enablement and enhancement. This is especially important in complex urban environments which are challenging to design, maintain, explore, and engage with."
Not only that, Bonte predicts that the urban metaverse will use the underlying digital twins, layered with augmented and virtual reality, to enable advanced modeling, simulation, and analysis also to make cities greener. 
For example, it could be used for assessing the carbon storage capacity of green infrastructure, monitoring carbon emissions, and managing carbon credit systems.
Forecasts for the urban metaverse: current projects
According to the report, it appears that some cities are already "on the ball" if it comes to the urban metaverse. For example, Seoul is one of the first cities to launch its own urban metaverse, while Tampere, Finland, recently launched a "metaverse vision" for 2040, in collaboration with the Metaverse Institute.
The city of Orlando, Florida, is also emerging as a physical center for metaverse development, led by the Orlando Economic Partnership. 
In general, the research firm said urban metaverse technologies are focused on generating immersive 3D experiences, combining digital twins, augmented, virtual and mixed realities, avatars, AI, cloud computing and mobile devices.
On the flip side, however, many see that investment and enthusiasm for the metaverse is already waning. 
Valentino Rossi, Alessandro Del Piero, Honda engage fans in Web3 and metaverse
While it will be tested whether the prediction of the spread of the urban metaverse will be a reality, currently we can see how the metaverse is increasingly attracting legends in sports and beyond. 
Indeed, in the past two months, there has been talk of the ValeVerse, the Web3's new motoring experience of Valentino Rossi's metaverse, the VR46 Metaverse, on The Sandbox. 
This is the result of the famous nine-time MotoGPMT champion's new partnership with Animoca Brands and Gravitaslabs. ValeVerse is Valentino Rossi's new meraverse on The Sandbox that offers new immersive experiences and launches new digital collectibles. 
Staying between Italian legends and the metaverse, recently, world soccer champion Alessandro Del Piero also entered The Nemesis metaverse with his new dimension called ADP Metaverse. 
Also with the idea of getting fans more involved in the Web3 and metaverse, Honda also launched its limited edition NFT in Japan at the FORMULA 1

Honda & Red Bull welcome event in Tokyo.