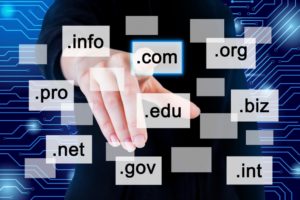 Unstoppable Domains, Web3's largest seller of NFT domains, has announced the addition of .com addresses, the world's most popular Web2 domain type. 
Unstoppable Domains of Web3 and NFT adds the most popular .com addresses of Web2
Unstoppable Domains has announced that it has entered the .com namespace. From now on, users will be able to purchase addresses from the most iconic traditional top-level domain of Web2. 
The famous ".com" domain is the most popular traditional Web2 Top Level Domain (TLD) type in the world, with over 157 million registrations.
This means that the largest seller of Web3 domains, Unstoppable Domains, has managed to make the functionality currently available for Web3 domains work with users' .com domains. 
Matt Gould, CEO and founder of Unstoppable Domains, said:
"We are thrilled to expand our offerings into the world of Web2, enabling users to buy such iconic domain names as .com alongside their Web3 addresses — all via a single platform.
This is a major milestone that continues Unstoppable's mission to become a one-stop shop for web3 domains – including traditional web2 domains that are web3 enabled. By uniting both Web3 and Web2, Unstoppable creates a huge opportunity to onboard even more users to the domain space, bridging web2 and web3".
Unstoppable domains from Web3 and NFT and the new .com addresses from Web2
Apparently, customers will soon be able to connect digital wallets to the .com domains managed by Unstoppable, allowing them to send and receive cryptocurrencies. 
Such crypto wallet addresses are easier to remember and use a simple, unified interface like Coinbase Wallet and Metamask.
The .com joins a number of registered domains already offered by Unstoppable Domains, including .nft, .crypto, .wallet, .x, .zil, .dao, .bitcoin, .polygon, .888, .blockchain and others. 
Currently, domain operator Web3 has 3.9 million registered domains. 
Not only that, but the company's future goals apparently include several updates to add more features to its domains. For Unstoppable Domains, Web3 and Web2 can co-exist and grow together to meet the evolving needs of Internet users. 
NFT's instant messaging revolution on the blockchain
Last August, Unstoppable Domains unveiled its latest innovation: NFT instant messaging on the blockchain. 
In practice, the owners of its domains can also enjoy the possibility of chatting "natively" with each other thanks to NFT. 
Based on XTMP, the new feature is called Unstoppable Messaging and is designed to protect and guarantee security and privacy between users. In fact, all messages are stored on the decentralised XMTP network. 
What is more, this NFT communication is accessible from all platforms using XMTP, guaranteeing the preservation and accessibility of messages regardless of developments on Unstoppable.