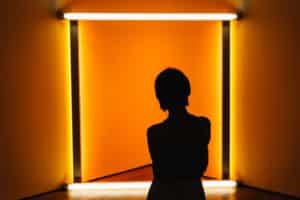 The Museum of Modern Art (MoMA) in New York recently included artworks in the form of NFT in its permanent collection. 
Specifically, the acquisition of these NFTs represents a significant step forward, marking the museum's first participation in on-chain and AI. See below for full details. 
MoMA New York embraces NFTs in its collection
As anticipated, the Museum of Modern Art (MoMA) in New York recently attracted attention for the acquisition of two innovative artworks. 
Specifically, we are talking about Refik Anadol's "Unsupervised – Machine Hallucinations" (2022) and last year's edition of Ian Cheng's "3FACE" project, respectively. 
These two works represent the first ever contributions made by artificial intelligence (AI) and non-fungible tokens (NFTs) to MoMA's collection, which already includes masterpieces such as Andy Warhol's famous soup cans and Vincent Van Gogh's "Starry Night."
These new acquisitions are part of MoMA's legacy of pioneering exhibitions exploring the intersection of technology and art, starting with the 1968 exhibition "The Machine as Seen at the End of the Mechanical Age" to the current "Signals: How Video Transformed the World."
The announcement of the new works is accompanied by a presentation of MoMA's programming for the upcoming fall and winter seasons, which includes the debut of "HANDMADE" (2023), the latest work by video artist Leslie Thornton. 
It also includes an online exhibition in collaboration with Feral File scheduled for early next year. Previously, MoMA unveiled its on-chain postcard project.
The museum statement underscores MoMA's long-term commitment to supporting artists exploring emerging technologies to expand their visual languages and foster creative exploration. 
Cheng, one of the acquired artists, recently stated the following: 
"I am very proud to have been included. MoMA had already acquired my 'Emissaries' simulation trilogy in 2017. Their openness and enthusiasm for dynamic digital art is rare for an institution."
Generative art and artificial intelligence: a new chapter in art history?
Carrying forward the legacy of previously controversial and pioneering art forms such as photography, generative art has pushed the current generation of artists to reconsider the criteria that make art authentic and valuable.
In particular, reflecting on the future of art powered by artificial intelligence, Cheng pointed out that the ultimate goal of generative tools is to create a new immediacy between thought and visual expression: 
"Just as writers build novels without intermediaries, generative art allows filmmakers to create films without depending on third parties. The artist's freedom is limited only by his imagination, taste, quality of questions asked, courage in pursuing nuanced truths, and understanding of human behavior."
Anadol and Cheng, both AI art artists, work primarily with data, and the emergent properties of their processes raise questions about the very definition of art history. 
For example, works such as "Unsupervised" raises the question of how to quantify a complex human psyche, while "3FACE" exploits the concept of the ledger as more than just a means of transaction.
As we know, some renowned museums, such as the Los Angeles County Museum of Art and the Centre Pompidou, began collecting NFT during the boom, and MoMA's decision to give recognition to such works marks a significant turning point.
In addition, Cheng shared his idea that although artificial intelligence art may seem experimental right now, in 10 years it may emancipate itself from the label of experiment. 
In fact, he argues that the ease of producing visually refined expressions could open the door to greater artistic participation from a wider variety of people, representing a positive shift in the artistic landscape.
More news for NFTs: Dairy Queen and Weirdo Ghost Gang set up pop-up NFT store in China 
According to the latest news, Dairy Queen has partnered with local non-fungible token project Weirdo Ghost Gang (WGG) to open a pop-up NFT store in Chengdu, China.
The temporary store, called "Ice and Snow Season," will be open from 15 November to 31 December, offering a wide range of co-branded products, including Dairy Queen's WGG-themed ice cream. 
In addition, WGG NFT holders will enjoy exclusive benefits as part of this collaboration. The project has already gained a large following among users in the Asia-Pacific region.
The WGG collection includes 5,555 "Lil Ghosts" NFTs created by ManesLab of Hong Kong Web3 in 2021. Since inception, the trading volume of the collection has exceeded 21.510 Ether (ETH), or $43.5 million, with a current minimum price of 0.485 ETH, equivalent to $995.2. 
Not only that, in September, WGG launched the "City Party Map – Shanghai Station" event in partnership with local retailer Jiujiu Duck Neck, offering discounts to NFT holders in more than 500 of its retail stores. 
Still, last month, the project announced the "Ghost Season" event at Beijing's affluent shopping mall, The Box, presenting its NFT art on 3D screens for shoppers.