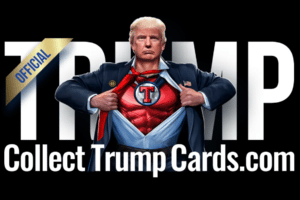 Yesterday, after former President Donald Trump appeared in Manhattan court, his collection of Non-Fungible tokens saw a 251% surge in sales.
Non-Fungible Tokens Sales of Donald Trump rise 251%
According to data from CryptoSlam, sales of Donald Trump's Non-Fungible Tokens skyrocketed +251% after news of the former US President's arrest as he appeared at the Manhattan courthouse yesterday.
JUST IN: Former President Trump's NFT sales have increased by 251% following his arrest. pic.twitter.com/KA0r0P9sSM

— Watcher.Guru (@WatcherGuru) April 4, 2023
It is Trump's NFT collection of 45,000 digital cards, which had sold out in a matter of hours when it debuted in December, with sales of $3.53 million.
Last week, following news of Trump's indictment, sales jumped 251%, now exceeding $65,000 total.
At the time of writing, NFT card #3162 is the top selling card of the past 24 hours, and over the past 7 days, priced at over $2,500.
"Trump Digital Trading Card" NFTs depict portraits of the former President posing with a "Trumpworld" sign in the "Hollywood" style, or as a superhero with lasers shooting from his eyes or as an astronaut.
The Non-Fungible Tokens of Trump and the call before the court
This surge in sales of Trump's Non-Fungible Tokens coincides with him being called before a Manhattan courtroom yesterday.
The former president, who is running to reclaim his old office, was indicted by a grand jury last week on charges of making alleged secret money payments to porn actress Stormy Daniels.
What happened yesterday was only a formalization of those charges, but it is the first time in American history that a former commander in chief has been criminally indicted.
For his part, Trump claimed that "there was no crime on Trump's part" in posts on his social media platform Truth Social. Not only that, the former president derided the indictment as a "witch hunt." 
From being against the crypto world to selling NFTs on Polygon network
Initially, Trump had sided with those opposed to the crypto world, even calling "Bitcoin as a scam."
It was only in December 2022 that Trump had apparently changed his mind, and launched his NFT collection on the Polygon network.
A move that would leave both NFT enthusiasts and Trump supporters incredulous and amazed. In fact, the "Collect Trump Cards" campaign was then promoted through his official account on Truth Social, with an initial sale price of each NFT of $99.
The 45,000 NFT cards on Polygon represent the former president's first official collection, and he himself volunteered to advertise their sale when they were launched.