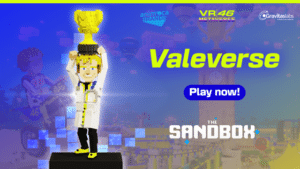 Valeverse, the Valentino Rossi metaverse on The Sandbox, has officially opened its doors to fans of the Italian MotoGPTM champion with the first Web3 gaming experience. 
Valeverse: the Valentino Rossi metaverse on The Sandbox opens its doors to fans with the first Web3 gaming experience
As of 31 October, the Valentino Rossi metaverse on The Sandbox was officially made available. Now, fans of the famous Italian MotoGPTM champion can access the first Web3 gaming experience and try to win exclusive benefits. 
Specifically, Valeverse has been made available along with FallO'ween's adventure on The Sandbox, namely a 30-day spooky adventure with 600,000 SAND of shared rewards up for grabs. 
Here is the announcement also on X: 
The metaverse of Valentino Rossi on The Sandbox puts the Valeverse Pass up for grabs
Truth be told, Valentino Rossi already has his own metaverse, the VR46 Metaverse, but what he is doing now is getting on board the blockchain-based metaverse of The Sandbox. 
Not only that, for those who participate in this first Web3 gaming experience, there is now a Valeverse Pass up for grabs. 
This is a pass that will give die-hard fans access to a long list of non-digital benefits, including the chance to get autographed merchandise, coveted race tickets, and a meeting with Valentino Rossi.
In general, Valeverse allows players to collect and enjoy exclusive digital items, including iconic motorcycles, helmets and suits from the "Doctor's" career, allowing fans of the Italian rider to express their passion in a whole new dimension. 
To further enrich the experiences of players on Valeverse, other exclusive content is also up for grabs, signed by SisalFunClub, which is celebrating the launch of the 2024 version of the app with a major presence within the experience. 
Such content allows players to visit the iconic stadium that becomes the stage in which users will compete with quizzes and mini-games. 
Just as in the app bearing the Sisal brand, where players can test themselves with tactics, strategy and the soccer market, fans of the Doctor will also be able to demonstrate their skills within Valeverse with missions and quizzes dedicated to the 9-time world champion.
The partnerships behind Valeverse
Valeverse was already heralded in late September when the partnership between VR46 Metaverse, Animoca Group and GravitasLabs was released. 
The long-running strategy the three partners have put into practice includes a series of interactive missions, digital collectibles and a Membership Pass dedicated to motorsport fans around the world.
Specifically, VR46 Metaverse and Valentino Rossi had commented on the new partnerships as a way by which they could increase existing activations of the MotoGPTM champion's metaverse on other Web3 platforms. 
On the other hand, Animoca Group and GravitasLabs described Valeverse as the result of their initial expansion into the automotive and motorsports segments.